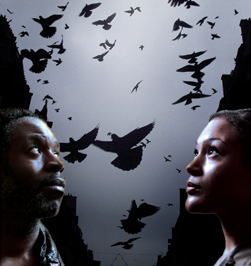 Theatre503 and the Liverpool Everyman and Playhouse presents the world première of The Swallowing Dark, a new play by Lizzie Nunnery. Directed by Theatre503's joint-Artistic Director, Paul Robinson, it stars Wil Johnson (Waking The Dead and Adulthood) and Allyson Ava-Brown (Secret Diary of a Call Girl). It will run at Theatre503 in London from 1 to 26 November, after its premiere at Liverpool's Playhouse Studio from 20 to 29 October.

The Swallowing Dark is written from first hand refugee experiences through Refugee Action. It follows story of refugee Canaan, who with his young son has escaped the horrors of Zimbabwe under Robert Mugabe to a new life in Liverpool. Canaan thought he'd left the past in the country he'd fled, but when Martha, a British Immigration caseworker reopens his case, he is fighting for his life once again. Fact, fiction and folklore collide to expose the lies we tell for the ones we love.

The intense two-hander will feature Wil Johnson as Canaan and Allyson Ava-Brown as Martha. Johnson is best known for his role as DI Spencer Jordan in nine series of the BBC's Waking the Dead, he was also in Noel Clarke's Adulthood and was last on stage in Birmingham Rep's Serious Money. Ava-Brown recently appeared in Birmingham Rep's The Wiz and in ITV's Secret Diary Of A Call Girl.
---
Info: Theatre503, above The Lachmere Pub, 503 Battersea Park Road, London, SW11 3BW | www.theatre503.com