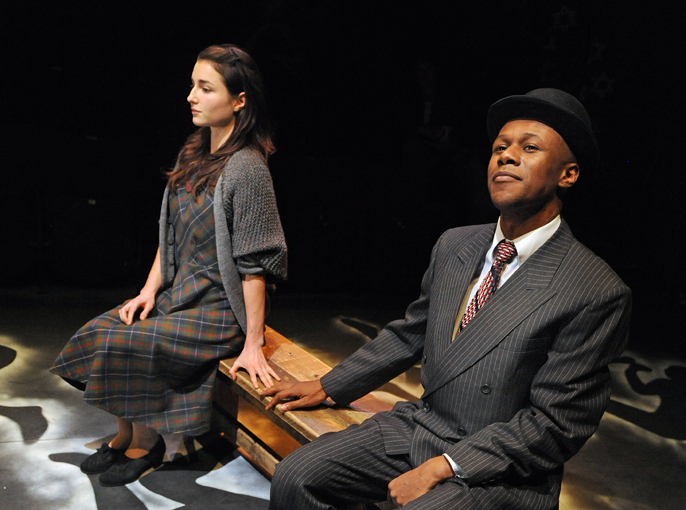 Theatre Royal Stratford East is delighted to present a new play from award-winning writer & director Rikki Beadle Blair. Shalom Baby is a love story initially set within the vibrant backdrop of 1930s Berlin as the city's well-documented nightlife culture contrasts with the rise of the Nazis and the onslaught of the Second World War.
Events unfold as the daughter of a wealthy Jewish family falls in love with their black 'Shabbes Goy' – A term used for individuals who regularly assist religious Jews on the Biblical Sabbath with tasks forbidden to Jews within Jewish law.
The play consequently crosses time zones and continents as a mixed-race couple in seemingly unprejudiced modern-day Brooklyn cope with a multitude of calamities. Shalom Baby is a poignant and humorous exploration of family, love and friendship.
When creating this piece, Rikki Beadle Blair became aware of a noticeable lack of information about black survivors of the holocaust. He was initially motivated to write Shalom Baby during a trip to the US and has subsequently traveled to Berlin to extensively research what leads, facts and legacies exist. The results have been woven into a colourful, transatlantic story exploring issues of racism and sexuality with Beadle Blair's customary warmth and observational humour.
Rikki Beadle-Blair first entertained audiences at Theatre Royal Stratford East with his successful 2005 play Bashment returning with Familyman in 2008. His other plays include FIT, which, along with Bashment, has been turned into a feature film.
Recently named in Observer Pink List as one the 100 most influential gay people in Britain, Rikki has a life-long commitment to creating challenging, transformative entertainment. He wrote the seminal movie Stonewall (1995), a co-production between BBC Films and US company Killer Films. The film was directed by Nigel Finch and won the audience award at the London Film Festival and the San Francisco Lesbian and Gay Film Festival as well an Outstanding Screenwriting Award for Rikki Beadle Blair at LA's prestigious Outfest.
Rikki has written successfully for both TV and radio both here and in the US. His radio documentary, 'The Roots of Homophobia' won a Sony Award for Best Documentary Feature. He remains prolific as writer, director and activist with his recent award-winning feature film 'Fit', about teenage sexuality and homophobic bullying distributed to every secondary school within the UK.