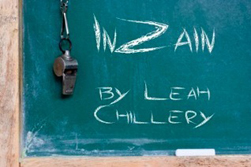 A comedy play about daring to dream and passion to succeed…

Directed by Pat Garrett
Starring Leon Wander & Trevor Allan Davies.

Zain has had a vision. An angel has come down from heaven to show him his destiny!

His goal: to become a player at Crystal Palace Football Club. His obstacle: His potential Manager. Never mind the prophecy; this is going to take a full blown miracle! Fine Artistree presents a comedy drama that explores the modern phenomenon of self entitlement within society and the youth culture.

Inzain is a tale of faith, desire and an unfaltering determination to succeed. Is Zain really a visionary or is he absolutely Inzain?
---
Info: Arch 72, Battersea Park, Queenstown Road, London SW11 4NJ | www.fineartistreeproductions.com