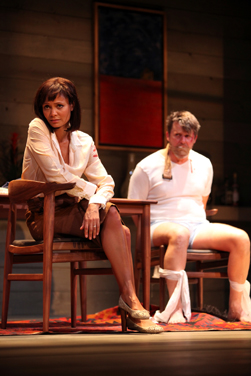 Thandie Newton plays the role of Paulina Salas, wife of Gerardo (Tom Goodman-Hill), alongside Anthony Calf as Doctor Roberto Miranda in Ariel Dorfman's Olivier award-winning thriller Death and the Maiden. Jeremy Herrin, Associate Director of the Royal Court, directs the play and the production is designed by Peter McKintosh.

This is the first West End production of Dorfman's 1990 play since the world premiere at the Royal Court in 1991 which transferred to the Duke of York's Theatre in 1992 where it played for 12 months. Subsequently, the play was produced on Broadway and adapted into a film.

The play is an intense and thrilling account of confession and revenge set against the backdrop of a new democracy, emerging from a long period of dictatorship.

Years have passed since political prisoner, Paulina, suffered at the hands of her captor: A man whose face she never saw, but whose voice and mannerisms can still recall with terrifying clarity.

One evening, by chance, a stranger arrives at the secluded beach house she shares with her husband Gerardo, a human rights lawyer. A stranger Paulina is convinced was her tormentor and must now be held to account...
---
Info: 7.30pm, Harold Pinter Theatre, 6 Panton Street, London SW1Y 4DN | www.deathandthemaidentheplay.com