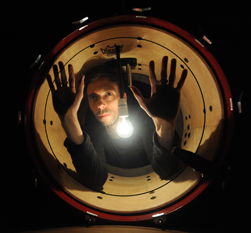 Last in the series of COMMA commissions at Bloomberg SPACE, The Place, the UK's premier centre for contemporary dance, announces the first ever dance installation.

For one week, The Place's artists will inhabit the spaces of the gallery, showcasing the broad and diverse practices of contemporary dance. Including an array of site-specific installations, performances, video documentations and impromptu one-off dances, the show will offer an unprecedented insight into the creative process of dance artists.

Choreographers of international acclaim, including Rosemary Butcher, Place Prize winner Ben Duke, Darren Ellis, Frauke Requardt, Rosemary Lee, Eva Recacha, Tony Adigun and Avant Garde Dance, Simon Ellis, Igor Urzelai and Moreno Solinas, Freddie Opoku-Addaie, Luca Silvestrini, and Vera Tussing, will transform Bloomberg SPACE with a rolling programme of residencies, making it their own creative space over the course of the exhibition, continuously reinventing itself. Bloomberg is committed to the support of artistic projects that propel original ideas. Over the years, Bloomberg has been championing commissions that both engage and inspire new audiences, concurrently providing artists with unique opportunities to develop their practice.
---
Info: 11am – 6pm | Bloomberg SPACE, 50 Finsbury Square London EC2A 1HD