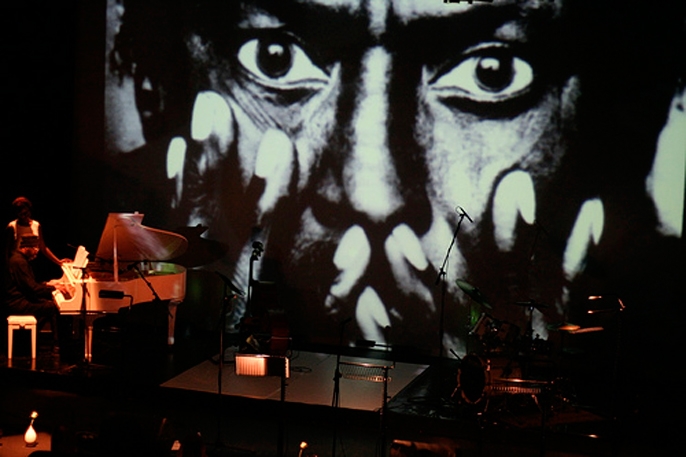 The love affair between legendary jazz pianist Thelonious Monk and extraordinary art patron Baroness Rothschild inspires this surrealist theatre piece written by the acclaimed Italian satirist Stefano Benni. Misterioso looks at the life and music of Monk, a genius and outsider, who spent the last seven years of his life in complete silence. His music permeates the show, played live here by some of the UK's finest jazz artists.
Fiercely monochrome, Misterioso is set in 1950s New York in a jazz club, hosted by Monk's best friend, the Jazz Baroness - Pannonica 'Nica' Rothschild (played by aerialist Tamsin Shasha). Defying all conventions, Pannonica fell in love with Monk and his music, at a time when black jazz musicians struggled not only to establish their own brand of new, passionate music but also against a racist culture. Misterioso is part of Black History Month.
Benni's poetic text has been adapted by Theatralia's artistic director Filomena Campus. She uses the improvisatory principles of jazz and Commedia dell'Arte where physical theatre, sounds, text images and music play together within a clear structure or scenario. Audiences are invited to enter the spirit of the event and wear black and white.
The cast includes Tamsin Shasha as Pannonica, Christina Oshunniyi as Billie Holiday and Nellie Monk, musician/performance improviser David Leahy, UK jazz stars Byron Wallen, Jean Toussaint, Tony Kofi, Antonio Forcione, Orphy Robinson, Rowland Sutherland live and Cleveland Watkiss as the pre-recorded voice of Thelonious Monk. Special guest musicians will be announced throughout the run. Digital artists SDNA provide interactive artworks.
Written by Stefano Benni
Adapted and directed by Filomena Campus
24 October: There will be a post-show talk with writer Stefano Benni.
7 November: There will be a post-show talk with the Teatralia company.

Misterioso: A Journey into the silence of Thelonious Monk runs from 21 October to 8 November, 8pm at the Riverside Studios.
Venue: Riverside Studios, Crisp Road Hammersmith London W6 9RL
Box office: 020 8237 1111