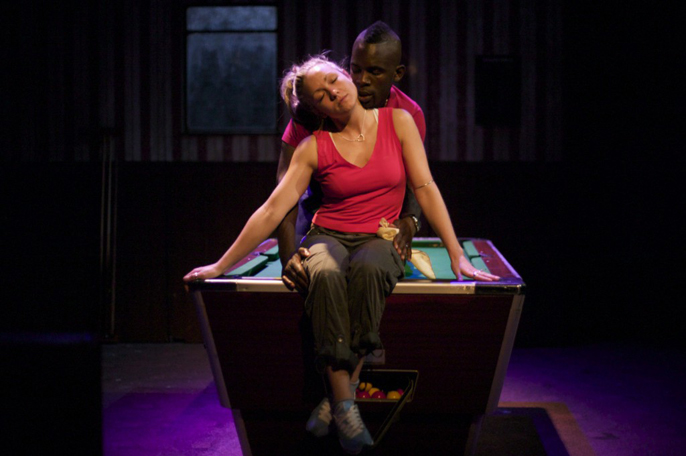 Frantic Assembly explodes onto the stage with its first Shakespeare production, an electrifying take of Othello, one of the most emotional of Shakespeare's great masterpieces. Frantic Assembly are delighted to be working with the Theatre Royal Plymouth and Royal & Derngate to present a lean muscular production featuring nine actors in this brutal tragedy of paranoia, sex and murder.
A black man in a working class northern town, Othello is a bouncer at the local pub. In a world of broken glass and beatings in the car park, there's tension around the pool table, cues in hand and it is all about to kick off. Fusing a taut adaptation of the classic text with its trademark hard-hitting choreography, Frantic Assembly takes a scalpel to 21st Century Britain, exposing the prejudice, danger and fears which underpin society today.
The cast are Charles Aitken, Jimmy Akingbola (Othello), Claire-Louise Cordwell, Leila Crerar, Minnie Crowe, Marshall Griffin, Eddie Kay, Richard James Neale and Jami Reid-Quarrell. Adapted and directed by Scott Graham and Steven Hoggett, choreography by Scott Graham, Steven Hoggett & company.
Designed by Laura Hopkins with lighting by Natasha Chivers and sound by Gareth Fry. Soundtrack by Hybrid.
Info: Lyric Hammersmith, Lyric Square, King Street, London W6 0QL | Tickets: 0871 22 117 22 | www.lyric.co.uk | 04 – 22 November 2008