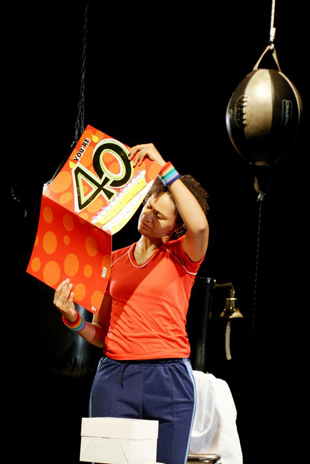 A regular performer at Oval House Theatre, last seen in the critically acclaimed Moj of the Antarctic, Mojisola Adebayo and the Ali Collective perform a new play Muhammad Ali and Me from 11 to 29 November, which follows the parallel lives of a Gay Girl Child and a Black Male Hero, Muhammad Ali.
Ali was always full of surprises. He danced in the boxing ring, rapped at press conferences, recited poetry in TV interviews, preached Islam from the back of a Cadillac and invoked revolution in a generation.
So in the spirit of Ali, Muhammad Ali and Me is a rich production full of wonder told through poetry, dance, boxing, African acapella singing, audience interaction and cleverly integrated British Sign Language. Ali even makes a guest appearance through verbatim text and original fight footage, with cartoon animation, pyrotechnics, magic tricks and a superb eclectic 1970's sound track!
Box Office: 020 7582 7680 | www.ovalhouse.com | Ticket Prices: £12 / £6 concessions | 11 - 29 November 2008 | Showtimes: Tuesday - Saturday at 7.45pm | press night 13 November | Saturday matinees 22 & 29 November 3pm | Oval House Theatre, 52-54 Kennington Oval, London, SE11 5SW