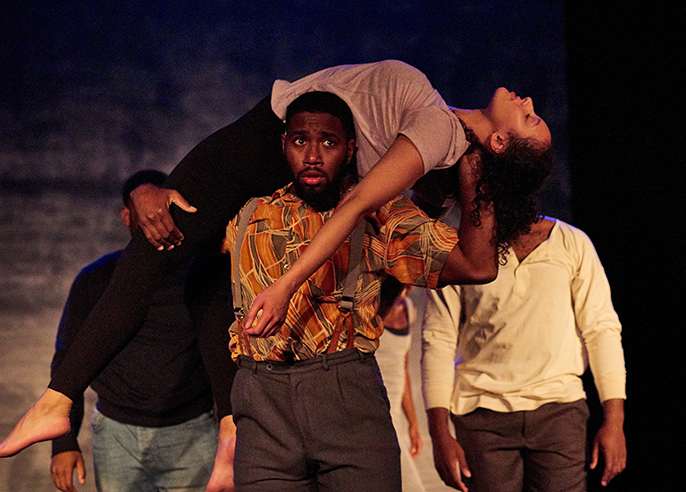 Freeman Trailer
Freeman will return in 2019 following a sold out run at the Edinburgh Festival Fringe. Full details at www.strictlyarts.co.uk
Following last year's critically acclaimed sold out run at the Edinburgh Festival Fringe, Freeman is back on tour and coming to London, Leeds, Sheffield and Bristol in May.
The award-winning Freeman is inspired by the first man in America to plead Insanity as his defence and sees writer Camilla Whitehill (Where Do Little Birds Go?) and Strictly Arts examine the unspoken link between mental health, systemic racism and the criminal justice system.
Throughout time and across waters, from William Freeman to Sarah Reed, six true stories are threaded together and told through physical theatre, spoken word, gospel singing, shadow puppetry and more. History is bound to repeat itself when the thumb is permanently bearing down on the loop button, so has anything really changed?
"Outstanding artistic courage"
Broadway Baby
⭐⭐⭐⭐⭐

"Both exciting and devastating...everybody should see it"
Edinburgh Guide
⭐⭐⭐⭐⭐
Tour dates

Carriageworks Theatre Leeds | 14 – 15 May | Find out more / book tickets
Theatre Deli Sheffield | 16 – 18 May | Find out more / book tickets
Bristol Old Vic Bristol | 23 – 25 May | Find out more / book tickets
Streatham Space Project, London | 28 May – 02 June | Find out more / book tickets
Physical Theater Festival Chicago, USA | 06 – 08 June | Find out more
Library Theatre Luton 19 – 20 June | Find out more / book tickets
Lawrence Batley Theatre Huddersfield 21 June | Find out more / book tickets