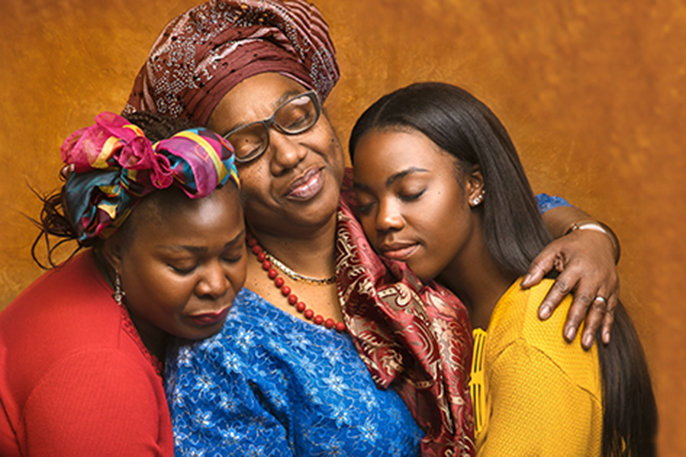 Scratch Performance and new play development performance
(with excerpts from the Play) & FREE writers' masterclass with Oladipo Agboluaje
"If you could tell your mother a secret about yourself, what would it be?">
Shadows in Different Shades is a semi-autobiographical story of three generations of women on two continents. We follow their need to connect with each other across time and space as they confront the secrets of their past in order to find a place of healing in the present. The story, told through music, ritual, poetry and movements, takes us through on an intimate journey of these women's lives, following their highs and lows, their triumphs and losses. Shadows in Different Shades is about the bonds shared between three generations of women. It is about women communicating their joys and their pains. It is a story about finding the courage to define themselves in a world where they are pressured to conform to the social definition of womanhood.
This is a deeply moving play createdy Moji Kareem, written by Oladipo Agboluaje, and accompanied by Nigerian music by singer/songwriter Juwon Ogungbe. It delves into the complex and intricate relationships that exist between mothers, and their daughters as they tackle issues of migration and changing identities. You'll be taken on a personal journey that explores how trauma is felt across generations of women. Become immersed in their journey whilst interacting with their past, present and future selves as you see event unfold through their eyes. Explore everything from religion, mental health, miscarriage, FGM and the position of women in a strictly patriarchal society.
CAST
Rachael Oriowo
Theatre credits: i (The Drum Theatre); Bob's Your Uncle (Alexander Theatre); Dying Out Loud (Spotlight Theatre); Wondering Into Wonderland (Blue Orange Theatre); Annie (Theatre Royal Drury Lane)
Film credits include: Capture (New Page Films); Champion (Alex Igbanoi)
Television credits include: The Last Dragon Slayer (Sky One)
Nataylia Roni - Nataylia is a native from Birmingham and has written an original one woman show inspired by music from Tenacious Spirit's EP Thanking God.
TV credits: Afua's Diary; Meet the Adebanjos.
Theatre credits: Rosa Parks/Coretta Scott King - The Life & Death of Martin Luther King; Caroline or Change; The Harder they Come (UK tour); Tell Hell I Ain't Coming
Hosting: MVSA Awards; Boogie Beebies; Open Road
Mojisola Bamtefa
Mojisola is a trained theatre artiste from the University of Ibadan, Nigeria. She is a versatile dancer and choreographer and runs the voluntary organisation Ijapa - Tales by moonlight which uses stories as a tool to convey critical messages.
Theatre credits: Lucifer and the Lord; Wedlock of the Gods; Death and the King's Horsemen; Iku Olokun Esin; Langbodo; Our Husband Has Gone Mad Again; Saworoide; The Gods are not to Blame
TV credits: Meet the Adebanjos
Creative Team:
Oladipo Agboluaje (writer)
Oladipo is an award-winning playwright. His plays for radio and stage include: Early Morning, Mother Courage and Her Children (African adaptation for Eclipse Theatre) and The Estate. He also is the winner of the prestigious Alfred Fagon Award, and received a 2010 Olivier award nomination for Outstanding Achievement in An Affiliate Theatre for his 2009 play for Iya–lle (The First Wife) at Soho Theatre.
Moji Kareem (director)
Moji is an award winning theatre director and the Founder and Artistic director of Utopia Theatre. Previous work includes: London Tales (Rich Mix and Lost Theatre), PIAD (Cultural Centre, Calabar), This Is Our Chance (Cultural Centre, Calabar), The Shepherd's Chameleon (CLF Art Cafe, London and York St John Theatre Studio,), House of Corrections (Riverside Studio), Pandora's Box as Assistant Director (Arcola Theatre, London) Wake Me When It's Time (York Theatre Royal, York), The Maids (York St John theatre Studio York), and The Duchess of Malfi (York St John theatre Studio, York).
Juwon Ogunbe (musical director and composer)
Juwon is an inspiring and well-respected musician, singer, composer and band leader from London, of Nigerian heritage. Placing African music at the heart of his work, Juwon also incorporates pop, jazz and classical music into his expressive range. Commissions include music for the Royal Shakespeare Company, Union Dance and the Southbank Centre amongst many others.
Designer | Emma Williams
Movement Director: Andile Sotiya
Movement Director: Diane Alison-Mitchel
Lighting Designer: Michael Corcoran
Michael Corcoran | Lighting Designer
Andile Sotiya & Diane Alison-Mitchell | Movement Director
Listings information
Writers' Masterclass with Oladipo Agboluaje
24 May 2018 | 11am-6pm | book ticket
FREE writers' master class. Led by Oladipo Agboluaje, the class aims to build your confidence, hone your skills as a playwright and send you away full of ideas about what to write next and how to do it.
Shadows In Different Shades
24 - 25 May 2018 - 7pm
Sheffield Crucible Studio Theatre, 55 Norfolk Street S1 1DA
A work in progress, followed by a Q&A
A semi-autobiographical story of three generations of women on two continents. We follow their need to connect with each other across time and space as they confront the secrets of their past in order to find a place of healing in the present.
Length: 90 min no interval | book ticket
Tickets: £10 / Concession £8

www.utopiatheatre.co.uk | Instagram / Twitter: @Utopia_Theatre | Facebook