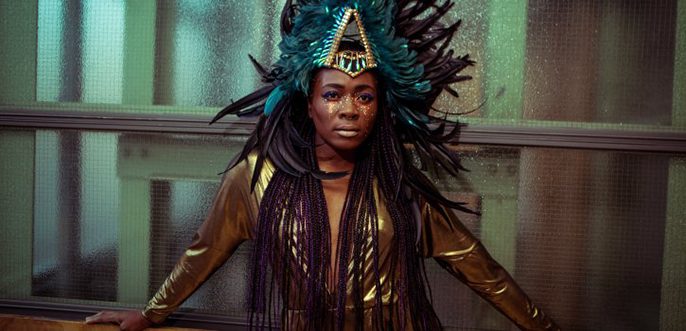 An explosive new performance channeling the cult of Grace Jones and Afrofuturism to start a revolution Created and performed by Rachael Young
Inspired by the timeless persona of Grace Jones, award-winning artist Rachael Young imagines a different future for women of colour through striking intergalactic imagery and visceral live music. Named after Grace Jones' 1981 landmark album of the same name, Nightclubbing was originally sparked by an event in 2015 when a group of young black women were racially discriminated against and refused entry to a London nightclub.
Embracing Afrofuturism, the cultural aesthetic behind the blockbuster hit Black Panther, which combines elements of science fiction, magical realism and African history, Nightclubbing reflects on the current progress and challenges around struggles for gender and racial equality. With an intersectional approach to feminism, where the multiple oppressions faced by trans women, disabled women, women of colour and black women are recognised, Rachael has worked with, and will be joined onstage by leading LGBTQ musicians and DJs to create sounds inspired by the Nightclubbing album itself.
Racheal Young said, "Nightclubbing will look towards a different future; a future where being a Person of Colour, or being a woman, or being a queer person doesn't count against you, where we come together and harness our enormous collective power, in the hope of challenging the systems that hold us down. The now global #BlackLivesMatter movement was started by three Black women; Alicia Garza, Patrisse Cullors, and Opal Tometi. That's a huge inspiration, it gives me hope that WE can make this change happen."
Running Time: 60 minutes
8 - 12 May Camden People's Theatre, London
58 – 60 Hampstead Road, London, NW1 2PY 7.15pm | £12 (£10 concs)
www.cptheatre.co.uk | 020 7419 4841
25 May Brownton Abbey, Brighton Dome (excerpt only)
Church Street, Brighton, BN1 1UE
8pm | £15
www.brightonfestival.org | 01273 709709
26 May Watch Out Festival, Cambridge Junction
Clifton Way, Cambridge, CB1 7GX
Times & prices TBC
www.junction.co.uk | 01223 511 511
13 July Latitude Festival
Henham Park, Beccles, Suffolk, NR34 8AN
Times TBC
www.latitudefestival.com