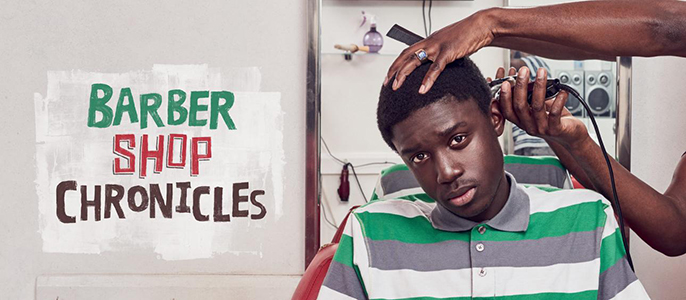 A co-production with Fuel and West Yorkshire Playhouse. A new play by Inua Ellams, directed by Bijan Sheibani.
Newsroom, political platform, local hot-spot, confession box, preacher-pulpit and football stadium. For generations, African men have gathered in barber shops to discuss the world.
This dynamic new play journeys from a barber shop in London, to Johannesburg, Harare, Kampala, Lagos and Accra. These are places where the banter can be barbed and the truth is always telling.
Barber Shop Chronicles is Inua Ellams' third play at the National, following the exhilarating The 14th Tale and Black T-shirt Collection.
The production is designed by Rae Smith with lighting design by Jack Knowles, movement direction by Aline David and sound design by Gareth Fry.
Barber Shop Chronicles will play at West Yorkshire Playhouse 12 – 29 July.
Info: Barber Shop Chronicles is at the National Theatre  from 30 May to  8 July 2017 / Book tickets