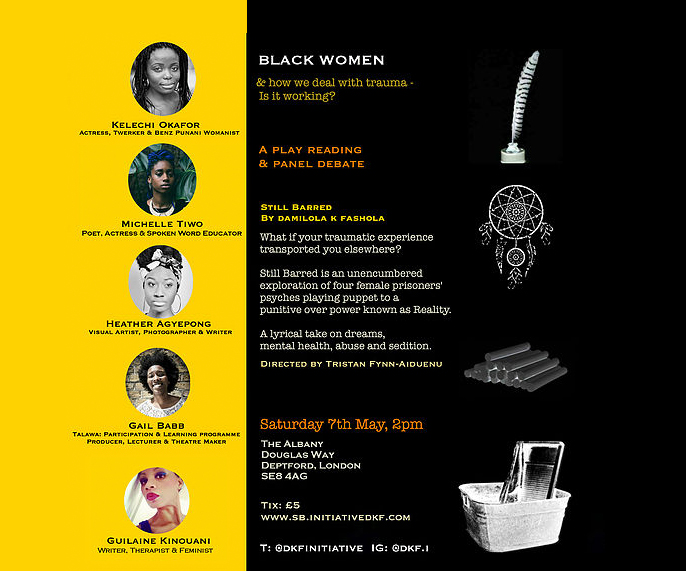 What if your traumatic experience transported you elsewhere? To a place of healing. A mystical world of correction, femininity x insanity. Welcome to steel barred island...
Exploring dreams, mental health, abuse and sedition; Still Barred is a lyrical theatre piece centred on four female prisoners' psyches playing puppet to a punitive overpower known as Reality.
Writer Damilola K Fashola
Director Tristan Fynn-Aiduenu
Assistant Director: Wofai
Cast: Joanna Sandi, Diana Yekinni, Veronica Beatrice Lewis, Cerise Joseph
Award Winning Artist & Royal Court Young Writers Alumni Damilola K Fashola is also the writer of Zarascasket (RADA festival 2015) and the creator of London's first theatre, short film and dance festival showcasing the works of British creatives of colour: Melanin Box.
PANEL:
Kelechi Okafor: Actress, Twerker and Benz-Punani Womanist • Michelle Tiwo: Poet & Actress (Ackee & Saltfish) • Heather Agyepong: Visual Artist, Photographer &, Writer • Gail Babb Talawa: Participation & Learning programme Producer & Lecturer • Guilaine Kinouani: a race, culture & equality consultant with an MA in Transcultural Mental Health & blogger at racereflections.co.uk.
Initiative.dkf is a creative arts collective specialising in theatre, visuals, and dance. The platform is a synergistic body of creatives redefining what it means to be creative, black and British.
Info: Black Women and How We Deal With Trauma is on Saturday, 7 May 2016 from 14:00 to 16:30 at the Albany, Douglas Way, London SE8 4AG | Book tickets