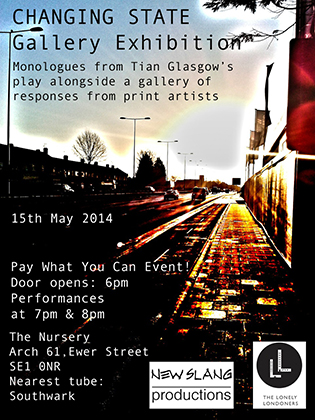 A collaboration between The Lonely Londoners and New Slang Productions. Bringing together monologues from Tian Glasgow's play CHANGING STATE in a gallery of artist responses to the emotions and themes.
CHANGING STATE is the second play written by Tian Glasgow. It is a darkly comic coming-of-age tale based around four inner city young adults as they make important decisions about their future.
Get a taster of the show and view the work of a group of artists who connected with the script.
This is a gallery event so come to view the art as you wish.
ONE NIGHT ONLY!
All additional money will go towards funding the research and development of the full play.
Info: The Changing State gallery exhibition takes place on 15th May, 2014 at The Nursery, 61 Ewer Street, London SE1 0NR, performances at 7pm and 8pm. Book tickets (This is a pay what you can event)