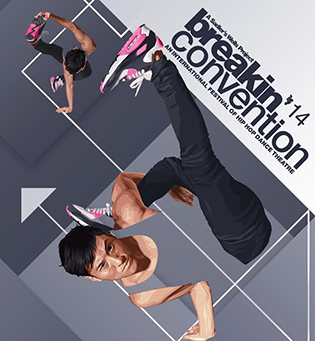 Saturday 3 May - Bank Holiday Monday 5 May 2014
Performances: 6pm (doors open 4pm) Sat & Sun/ 6.30pm (doors 5pm) Mon
Tickets: £15 - £20
Ticket office: 0844 412 4300 www.sadlerswells.com
Breakin' Convention offers reserved seating so early booking is strongly advised
"This annual festival of hip hop dance theatre remains one of the highlights on the British dance calendar" The Times
Sadler's Wells' critically acclaimed international festival of hip hop dance theatre, Breakin' Convention, is back, with high energy performances from UK and international companies over the May Bank Holiday Weekend (3 - 5 May 2014).
Now in its 11th year, this hugely popular Sadler's Wells production is hosted and curated by pre-eminent UK hip hop theatre artist Jonzi D. Breakin' Convention continues to offer a unique platform for young artists, with youth companies being able to present work on the main stage alongside more established acts. Breakin' Convention also sees Sadler's Wells' foyer transformed with live DJs, freestyle dance jams, graffiti exhibitions and workshops from top international artists.
Following performances at Sadler's Wells Breakin' Convention will tour the UK, supported by Arts Council England's Strategic Touring Programme and Dance Consortium, visiting nine UK venues, five of which are new to the festival.
Sadler's Wells' support of the regional venues presenting Breakin Convention is greater than ever this year, through financial and administrative resources including running a regional film mentorship programme alongside the tour.
Sadler's Wells will work with each regional partner in the tour to create an audience development plan that is tailored for the venue and its surrounding community, ensuring a strong legacy beyond the tour. This will include engaging local urban cultural ambassadors who will provide the link between the venue and the local hip hop dance, graffiti, rap and DJ communities.
Breakin' Convention showcases the best of international and home-grown hip hop talent. The 2014 line-up includes Olivier Award-nominated ILL-Abilities; London's Ukweli Roach; and France's Wanted Posse.
UK acts in this year's Main Stage line-up:
Avant Garde Dance - a London based company at the forefront of innovative hip hop contemporary dance theatre, led by Artistic Director Tony Adigun.
Boadicea - an all-female collective of artists, brought together by founder Rhimes Lecointe (StreetDance 3D). The company was a Got to Dance Sky 1 2012 finalist and has graced stages and videos with artists such as Lemar, Alexandra Burke, Jessie J and Plan B.
Boy Blue Entertainment - a collaboration between Kenrick H2O Sandy's Boy Blue Entertainment youth companies and adult company, bringing both worlds together in a vision of growth and legacy. Boy Blue Entertainment has performed at Breakin' Convention many times in the festival's history, including the first year back in 2004.
Definitives - a London-based crew founded and led by Glenn Hudson. Formed in 2007, the group specialises in musical movement, using a range of styles to portray what they feel and hear.
Duwane Taylor - Taylor specialises in locking, popping, house, krumping and commercial hip hop. He played the role of Governor Okeke in ZooNation's hit show Some Like it Hip Hop, and appeared in the film Streetdance 3D.
Far From The Norm - choreographed by Botis Seva, who has previously performed at Breakin' Convention. The group strives to break boundaries and be recognised for innovation and individuality.
Kendra Horsburgh - a core member of BirdGang and an original member of Boadicea. She has performed with some of the UK's most successful hip hop dance companies including Boy Blue and ZooNation, and recently appeared in hip hop dance show Blaze at the Peacock Theatre.
Rowdy - widely acknowledged as the UK's leading female funk style dancer. With over 15 years experience her CV includes showcases, performances, battles, video shoots, workshops, TV work and teaching. She was also a dance captain for the Olympic Opening Ceremony for London 2012.
Spoken Movement - Choreographer and artistic director Kwame Asafo-Adjei presents a piece he developed at Breakin' Convention's Back to the Lab - a course aimed at experienced choreographers who wish to develop new ways of approaching choreography, directing and staging. His experimental movement looks to provoke a guttural reaction.
Soul Mavericks - five times UK b-boy champions, 2012 European champions and 2013 Central Europe Battle of the Year champions, Soul Mavericks return to Breakin' Convention with their second hip hop theatre piece, Who We Aren't, developed at Breakin' Convention's Back to the Lab.
Ukweli Roach - a highly skilled artist and founding member of BirdGang Dance Company, Ukweli Roach has choreographed and performed world-wide as well as working as an actor in film, television and theatre.
Venus and Mars - French and UK dancers partner up in a performance choreographed by company founder Nickel Yudat especially for Breakin' Convention.
International acts featuring on the Main Stage:
ILL-Abilities (Canada) - a group of b-boys who have overcome extraordinary challenges, helping to spread the message "No Excuses, No Limits" and redefine society's view of disability, promote empowerment, and encourage limitless possibilities through motivational entertainment.
Wanted Posse (France) - widely respected, Wanted Posse have won many of the world's most high profile hip hop dance battles for over a decade. Their work expresses the roots of their personal revolutions.
David Colas (France) - Colas has won several battles and is often invited to judge international competitions. He regularly teaches masterclasses in Marseille, where he lives, and has been a key influence in the French hip hop dance scene since 1984, when he first appeared in the program Hip Hop on the French television channel TF1.
Don't Hit Mama (Holland) – the company creates dance theatre work with professional and non-professional dancers, based on Afro-American dance and music principles and features Menno, reigning b-boy world champion.
IN-SI-DE the Cirque (Czech Republic) - combining street dance styles, live music and comic dancing, IN-SI-DE the Cirque connects the world of circus and hip hop dance.
Street Kingdom (USA) - a group of dancers who created krumping, a highly energetic style characterised by free, expressive and explosive movements. They are led by Tight Eyez, widely acknowledged as the world's leading krumper, and appeared on MTV reality competition series America's Best Dance Crew in 2011.
Tentacle Tribe (Canada) - AKA Emmanuelle Lê Phan and Elon Höglund. This Montreal-based dance company creates uncommon dance works with a contemporary twist using conceptual hip hop and influences from their surroundings.
P*Fect (Sweden) - focusing on the styles of waacking and vogue, P*Fect puts a spotlight on breaking prejudices and dissolving gender in dance culture.
In addition to the main stage acts, there will be performances in Sadler's Wells' Lilian Baylis Studio by Crimson Grae & The Rovers (UK); Marius & Andrei (Romania); Mouse & Clara (UK/Philippines); PPL (UK); and Tom Tsai (Taiwan/ USA).
For more information see www.breakinconvention.com
Breakin' Convention 2014 UK Tour in association with Dance Consortium
Sadler's Wells, London
Sat 3 - Mon 5 May

Doncaster CAST
Sat 10 May

Kings Lynn Corn Exchange
Tue 13 May

Inverness Eden Court
Fri 16 & Sat 17 May

Birmingham Hippodrome
Tue 20 & Wed 21 May

Whitley Bay Playhouse
Sat 24 May

Brighton Dome
Tue 27 & Wed 28 May

Bristol Colston Hall
Sat 31 May

Blackpool Grand
Tue 3 June

Bournemouth Pavilion
Sat 7 June