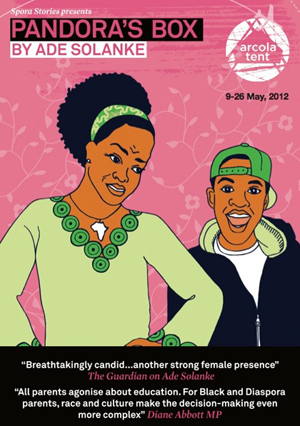 Special performances of Pandora's Box, Arcola Theatre:
21 May: Sickle Cell Society fundraising performance 7.30
23 May: Brothers Celebrating Mothers Date Night (sons treat your mums)
26 May: Special matinee presentation at 3pm and post-show discussion on British-Nigerian writing in an historic week with three plays by British-born writers on in major London theatres
In a co-production with The Jon Harris Partnership

On holiday with her streetwise son in Lagos, a British-Nigerian mother is in turmoil. Should she leave her only child in a strict Lagos boarding school, or return him to the battlefields of inner London? A family spanning three generations and two continents meet in Lagos for the first time in over thirty years. But the joy of reunion unleashes long-suppressed truths.

Ola Animashawun directs Ade Solanke's potent new play, Pandora's Box, a lively and compelling examination of loyalty, love and betrayal; Pandora's Box reveals the heartbreak behind the difficult choices some parents must make – and the price their children pay.

The play addresses a subject of great topical debate in the African-Caribbean community. Diane Abbott MP, who sent her son to school in Ghana for two years, will be joined by Richard Taylor OBE, founder of the Damilola Taylor Trust and Olu Alake, President of the 100 Black Men of London, in a discussion on education, Africa and British-African kids at the Arcola Tent on Saturday 12 May at 4.30pm following the matinee and also at 9pm immediately after the evening performance.


'This play is a funny, poignant look at family relationships. All parents agonise over the best educational choices for their children. For black and diaspora parents, issues of race and culture make the decision-making even more complex. Pandora's Box offers an entertaining and fascinating insight into parenting, mother-son dynamics and educational issues.' Diane Abbott
The production is supported by the Damilola Taylor Trust.

Info: 9 - 26 May
Arcola Tent, 2 Ashwin Street, Dalston, London, E8 3DL
www.arcolatheatre.com
---
Related links
Afridiziak Theatre News review of Pandora's Box
Afridiziak Theatre News interview with Ade Solanke
Pandora's Box : Jingle
Pandora's Box : Jingle