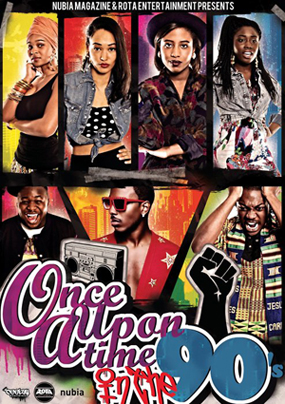 R.O.T.A Entertainment presents a light-hearted black theatre musical that tells a compelling story set in the 90s as it follows seven young people on a journey of self-discovery.

This witty production is essentially 'a blast from the past' that includes hairstyles, clothes and music with an historical spin. The play also explores sensitive social issues makes both political and social comments, and addresses stereo-types and taboos within the black community.

The play set in a span of three days, encapsulates a journey of discovery where young people discover similarities within their characters. It challenges young people to rebel against the boundaries that so often present themselves and reach their full potential.

The young all- black cast includes Carissa Garnet, playing Jessica, diva and girlfriend of Zane, who studied drama at Winchester University and currently attends the City Academy studying ballet and dance ,up- and- coming young actor, Natey Jones, playing a comic character, Rio, a law student who now attends London's first Black Drama School, Identity, and enjoys working within an Afro-Centric theme and Nadine Mills, a former Identity student who plays Toby, a motherly figure who attempts to bring everyone in the house together. Stella Anderson, Samson Kayode, Duane Lamonte O'Garro as ego-hungry Zane and Diane herself as Harlemisha complete are the line-up.

In addition there is a special guest performance by UK recording artist Akala.


Info: Albany Theatre, Douglas Way, London SE8 4AG | 7.30pm. | www.thealbany.org.uk | box office: 0208 692 4446
Once Upon A Time In The 90s - What's It All About?
Once Upon A Time In The 90s - courtesy of YouTube