Wuthering Heights: Brontë goes to Bollywood in a brand new musical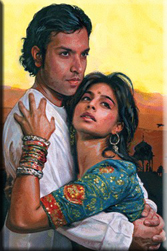 A Tamasha and Oldham Coliseum Theatre Production in association with the Lyric Hammersmith
The scorched desert landscape of Rajasthan is the setting for this musical interpretation of Emily Brontë¹s classic tale of passion, jealousy and revenge.
1870s Rajasthan with its rigid social hierarchy, inequality of wealth and Victorian influences, is an ideal location for this story of passion corrupted by prevailing social values. In place of the cold moors, the wild scorched expanse of the desert provides a symbolic setting for the doomed love affair of Shakuntala and Krishan (Cathy and Heathcliff from the original novel).
As the lovers' tragic tale unfolds against an epic backdrop, heightened emotions are released through song in this vivid interpretation of a literary classic. The dark and brooding atmosphere of the original 1847 novel are infused with elements of Indian cinema ­ from brooding black-and-white epics of the O50s to colourful contemporary blockbusters ­ and western musical theatre, to captivate theatregoers of all ages.
Music for the show, composed by Felix Cross and Sheema Mukherjee, reflects its setting with a score that combines original composition and authentic Rajasthani folkloric music.  In traditional Bollywood style the eleven actors will sing in lip-synch to the pre-recorded score, which has been performed and recorded by a team of classically-trained musicians in
Bangalore and vocalists in London.
Wuthering Heights is directed by Tamasha's co-artistic director Kristine Landon-Smith.  Additional text for the show is written by Tamasha's co-Artistic Director Sudha Bhuchar.
Wuthering Heights is at the Lyric Hammersmith from 29 April to 23 May, 2009 at 7.30pm.

Matinees: 02 May: 2.30pm, 06
May: 1.30pm, 09
May: 2.30pm, 13 May: 1.30pm, 16 May: 2.30pm, 20
May: 1.30pm, 23 May: 2.30pm
Tickets: £10 - £27
Bookings:  0871 22 117 22 | www.lyric.co.uk
Touring nationally from 13 March ­ 20 June
13-28 Mar 2009
Coliseum Theatre, Oldham
www.coliseum.org.uk | 0161 624 2829
7-11 Apr 2009   
Exeter Northcott, Exeter
www.exeternorthcott.co.uk | 01392 493493
21-25 Apr 2009
Citizens Theatre, Glasgow
www.citz.co.uk | 0141 429 0022
27 ­ 30 May 2009  
Northern Stage, Newcastle
www.northernstage.co.uk | 0191 230 5151
2-6 Jun 2009
Nuffield Theatre, Southampton
www.nuffieldtheatre.co.uk | 023 8067 1771
9-13 Jun 2009   
Belgrade Theatre, Coventry
www.belgrade.co.uk | 024 7655 3055
16-20 Jun 2009  
Harrogate Theatre, Harrogate
www.harrogatetheatre.co.uk | 01423 502 116