Windmill Baby at Origins - Festival of First Nations
"My people will sleep for one hundred years, when they awake it will be the artists who give them their spirit back." Louis Riel (Métis leader, Canada, 1885)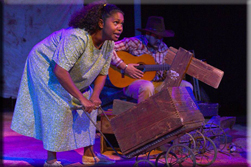 Origins is the UK's inaugural festival of First Nations Creative Art. Groundbreaking artists from the indigenous cultures of Australia, Canada, New Zealand and USA are brought together in London by intercultural, multi-media company Border Crossings. The festival explores First Nations experience in the twenty-first century through theatre, film screenings, events and participation at venues across London.
Yirra Yaakin (Australia) presents Windmill Baby at Riverside Studios from 12 to 17 May
written and directed by David Milroy (see also Film: Dark Science), performed by Rohanna Angus
Multi-award winning and internationally acclaimed, Windmill Baby is a one-woman redemption piece told by Maymay, an old Aboriginal woman who returns to the deserted Kimberley cattle station that was her home 50 years ago. The play confronts the racism that shaped the modern indigenous experience whilst embracing universal themes of love, life and loss.
Windmill Baby
Venue: Riverside Studios, Crisp Road, Hammersmith, London W6 9RL
Dates + Times: 12-17 May: 12-16 May at 7.30; 16 May at 3pm; 17 May at 4.30pm
Box Office: 020 8237 1111 | www.riversidestudios.co.uk
Prices: £15 / £12