The Observer by Matt Charman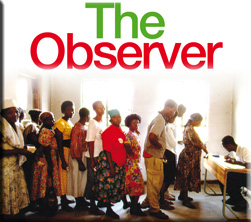 An international group of observers arrives in a West African country to oversee and rubber stamp its first democratic election. New voters queue in their thousands, but a senior member of the observation team find herself both horrified by the President's suppressive tactics and, for once, in a position to do something about it.
Yet as violence on the streets escalates and the country enters free fall, an increasingly angry young translator forces this well-meaning outsider to confront the impact of her intervention.
The cast is: Leo Bill, Daon Broni, Anna Chancellor, James Fleet, Peter Forbes, Lloyd Hutchinson, Chuk Iwuji, Aïcha Kossoko, Louis Mahoney, Cyril Nri, Isabel Pollen and Joy Richardson.
The Observer is on until 8 July, 7.30pm at the Cottesloe Theatre
Address: Cottesloe Theatre, National Theatre, South Bank, London SE1 9PX
Box Office: 020 7452 3000
Tickets: From £10