Ìyà-Ilé (The First Wife) presented by Tiata Fahodzi and Soho Theatre by Oladipo Agboluaje and directed by Femi Elufowoju, jr
Lust. Power. Deceit. The Adeyemi family is back in business.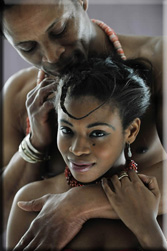 In 1980's Nigeria, Chief Adeyemi's household prepares for his wife's 40th birthday celebrations. This is a period of military rule and huge social change for the whole nation. The Adeyemi family is even more volatile. This is a family to whom power is currency, secrets are rife and whose servants are well trained in the art of social climbing. Is this scene set for a party or a coup?
Ìyà-Ilé (pronounced yah-ley, English translation The First Wife) is the long awaited prequel to Oladipo Agboluaje's sell-out hit The Estate, which Tiata Fahodzi premiered at Soho Theatre in 2006 and is currently being made into a film. The Estate, influenced by Chekhov, was a vibrant family satire with strong universal appeal. Following critical acclaim, packed houses revelled in the rumbustious Nigerian atmosphere. An evening with Tiata Fahodzi is a great event and a unique theatrical experience.
The cast include: Jude Akuwudike: No1 Ladies Detective Agency, Moses Jones, Antonia Okonma: Moses Jones, Bad Girls, Babatunde Aleshe, New Tricks, Tobi Bakare: Silent Witness, Estella Daniels, Marcy Oni and Nick Oshikanlu: who appeared in The Estate.
Founded in 1997, Tiata Fahodzi produces new work that explores the rich heritage of theatre sourced from people living within British African communities. Tiata Fahodzi last visited Soho with the critically acclaimed Joe Guy by Roy Williams (2007) and they closed the Almeida Theatre's 2008 Festival with their popular annual new-writing and music showcase, Tiata Delights.
For the past forty years Soho Theatre has established a strong reputation for producing groundbreaking and innovative new work and supporting the work of writers and theatre practitioners. Oladipo Agboluaje was a member of Soho Theatre's Writer's Attachment Programme in 2004.
Ìyà-Ilé (The First Wife) from 14 May to 20 June at Soho Theatre, 7.30pm
Address: Soho Theatre, 21 Dean Street, London W1D 3NE
Box Office: 020 7478 0100
Tickets: 14-23 May: £10, 25 May – 6 June: £15 (£12.50) 8-20 June: £20 (17.50);
Matinees: 23, 28, 30 May, 4, 6, 11, 18 June £10, 13, 20 June £12.50, 3pm;
Post-show discussion: 15 June