Serious Money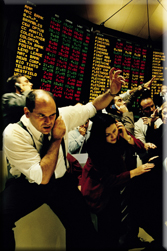 As the world financial markets crumble, Birmingham Repertory Theatre will present a major revival of Serious Money, Caryl Churchill's prescient satirical play about Eighties City greed. One of the iconic plays of the Twentieth Century, Serious Money, takes a wry look at the ruthless world of corporate finance. Premiered in 1987, as the financial world came tumbling down, the play was written by Churchill following research at the London Stock Exchange. Full of satire and humour, Churchill's play conveys the hectic excitement of financial – and moral – risk, bringing to life the swaggering, foul-mouthed Yuppies of the 80s.
Serious Money is set in the heart of the City just after the Big Bang. The square mile has been invaded by white knights and corporate raiders. At the centre of the square mile is hot-shot trader Billy Corman, whose latest deal is to take over the unsuspecting company, Albion, aided and abetted by the new breed of yuppie traders and oiks with their junk bonds and greenmail. But their plans go awry when trader Jake Todd is found dead and the Department of Trade and Industry investigates.
Directed by Jonathan Munby, the play comes at a time when Britain's financial crisis continues to dominate the headlines.
The cast for Serious Money will be led by Lex Shrapnel as Billy Corman. Lex can currently be seen in the remake of Minder as Jamie Cartwright (minder to Shane Ritchie's Archie Daley). His theatre credits include The Histories (RSC) and Calixto Bieito's Hamlet (Birmingham Repertory Theatre). Film credits include Flyboys, Minotaur and Thunderbirds.
He will be joined by Wil Johnson as Durkfield. Will has played alongside Robbie Coltrane as a DC in Cracker and has since progressed to popular roles in Baby Father, Clocking Off and Buried Treasure, as well as the International Emmy Award Winning Drama Series, Waking The Dead. His theatre credits include Othello (Royal Lyceum, Edinburgh) and A Mad World My Master (Shakespeare's Globe).
Serious Money: a City Comedy by Caryl Churchill is at the Birmingham Rep from 8 to 23 May 2009.
Performance Times: 7.30pm apart from Tue 12 May at 7.00pm.
Matinees at 2.00pm on Sat 16 May and Thu 21 May
After Dark – free post-show discussion with the company: Thu 14 May BSL Interpreted Performance: Fri 22 May
Audio Described Performance: Thu 21 May at 7.30pm Captioned Performance: Sat 16 May at 2.00pm
Tickets: £10 - £32
Box Office: 0121 236 4455