Security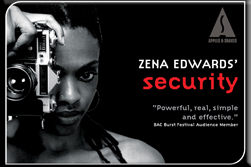 This comical and moving tale of unexpected friendship confronts the issues of security and identity through a fusion of performance poetry, theatre, movement and song. Set within the beating heart of London, the chaotic stories of five characters in crisis are exposed through the eye of a camera.
What happens when one generation collides with another and cultural expectations clash? Does the flash of a blade in broad daylight mean the end or the beginning of Security? Find out when age and youth battle as Palestine meets Peckham. Zena Edwards takes storytelling into the twenty-first century. Written and performed by Zena Edwards, directed by Anthony Shrubsall.
Free post show talk back!
The performance and post-show discussion will both be BSL interpreted
This is your chance to meet the show's creative team; writer and performer Zena Edwards and director Anthony Shrubsall. They will be disussing the creative processes in making the show and also the hard hitting issues it explores.  Join us after the show and tell us what you think!
Security will be at the Albany Theatre on 6 May, 2009 at 7.30pm
Address: Albany Theatre, Douglas Way, London SE8
Box Office: 020 8692 4446
Tickets: £10, £6 concs / Schools £5 (not available online)