Sell a Door Theatre Company present Planning Permission at the Unity Theatre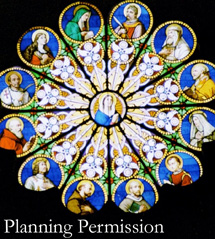 How well do you know the person living next door?
A community council meeting is underway.  A new video shop has been proposed. It is up to the six individuals to vote on its construction. But are people's minds fully on the availability of the latest DVD release?
A student, an OAP, a businessman, a secondary school teacher, a house husband and a trainee nurse draw the battle lines.
The world premier of David Hutchinson's new farce explores a village divided by their traditional values on race, sexuality, age and gender.  As the mêlée rages the vote becomes nothing to do with the video shop and everything to do with who comes out on top.
Sell a Door Theatre Company presents 'Planning Permission' as part of its 2009 season of new writing.  The company was founded in 2007 by a group of North West based artists that endeavour to produce challenging new theatre for regional based audiences.
Sell a Door is a Theatre Company based in Liverpool, UK, formed by actors, writers, directors, managers and technicians of the Liverpool Institute for Performing Arts.
Planning Permission takes place on 14 and 15 May, 2009 at Unity Theatre, Liverpool
Address:  Unity Theatre, Hope Street, Liverpool L1
Time: 14 May – 18:00 / 20:30 / 15 May – 18:00 / 20:30
Ticket prices: £8.00 (£6.00 concession)
Box Office: 0151 709 4988 / www.unitytheatreliverpool.co.uk
Complimentary tickets are available for Industry promoters and reviewers.