Nina and Shaz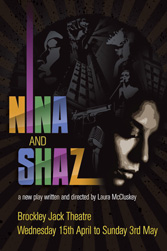 "People died for that dream - for all of us. We mustn't forget that. And now we got black men killin' each other! That ain't what we fought for."
Young, Gifted and Black. Two women, Nina Simone and Shazne. Worlds apart but with one thing in common – the power of music.
Two compelling stories, set against the backdrop of the stirring American Civil Rights Movement, and the turbulent streets of contemporary London, Nina and Shaz is a powerful yet inspiring play with music for the generation of today and yesterday.
From the producer of last year's critically acclaimed Can You See Me Yet? Nina and Shaz is written and directed by Laura McCluskey (assistant director, Gone Too Far!, Royal Court) and produced by Language Laid Bare Productions.
Cast includes Nathan Clough, Rebecca Crankshaw, Linda Emmanuel, Kevin Golding, Daniel Green, Charlene James, Wreh‐asha Walton Nina and Shaz is showing at the Brockley Jack Theatre from 15 April – 3 May, 7.45pm Wednesday to Saturdays and 5pm Sundays.
Address: Brockley Jack Theatre, 410 Brockley Road, Brockley, London, SE4 2DH
Tickets: £12/£9 concessions
Box office: 0844 847 2454 or book online