Lenny Henry stars as Othello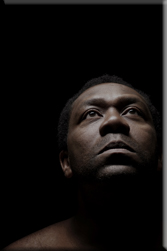 Lenny Henry heads an ensemble cast of twelve in a new staging of William Shakespeare's Othello. Othello is a co-production between West Yorkshire Playhouse and Northern Broadsides.
Othello is directed by Barrie Rutter, Artistic Director of Northern Broadsides.
In 2006, Lenny Henry made a BBC Radio 4 series Lenny and Will, about his discovery of the work of Shakespeare. As part of an interview with Barrie Rutter, they rehearsed a soliloquy from Othello and such was their rapport and Lenny's commitment and ability that Barrie suggested that his company present Othello with Lenny in the lead role.
This is Lenny Henry's first Shakespearean role and follows his study of the work of Shakespeare as part of an Open University MA – having been convinced from his school days that Shakespeare was not for him. It marks a new stage in an illustrious performing career in comedy, television and film.
Tour Dates
14 Feb - 14 Mar: West Yorkshire Playhouse / www.wyp.org.uk
17 - 21 Mar:  Stephen Joseph Theatre, Scarborough / www.sjt.uk.com
07 - 11 Apr, Belgrade Theatre, Coventry / www.belgrade.co.uk
14 - 18 Apr, Theatre Royal, Bath / www.theatreroyal.org.uk
21 - 25 Apr, The Rose, Kingston / www.rosetheatrekingston.org.uk
28 April – 2 May, New Vic, Newcastle Under Lyme / www.newvictheatre.org.uk
05 - 10 May, The Viaduct, Halifax / www.deanclough.com