Havana Rumba! The New Generation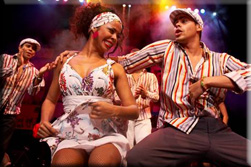 Riverside Studios is delighted to present the UK premier of Havana Rumba! Cuba's hottest dance show which celebrates the emotions of rhythm and rumba live on stage. Featuring the country's best musicians and dancers, Havana Rumba! is an exhilarating and infectious slice of contemporary Cuban life.
With the right groove in their hips, the young dancers – Cuba's new generation – showcase their skills. With power and precision, modern salsa and rumba rhythms are put in the spotlight. The full use of physical strength and the lively dance style are contagious, sexy and intoxicating. However at its heart of Havana Rumba! is a serious story of the marginalised poor people of Cuba, the rumba brings freedom and escape from the hardships of daily life.
The show tells the story of Ramon, the king of Rumba and his son Papito, who sings reggeton, the music of the new generation. Papito dreams of going to the States to win a Grammy and imagines that the streets of Miami are paved with gold. Like many before him, Papito leaves Cuba on a raft, to find fame and fortune.
Through the characters of Ramon and Papito, Havana Ramba! takes the audience on a musical journey, from the fertility dances of the African slaves, the music of the fifties, the mambo, cha cha cha and son, to the thrilling music of Cuba today, the salsa, the timba, and the reggaeton.
Havana Rumba! features the legendary group Sonora la Calle; ten of Cuba's finest musicians, the cast includes Eric Turro who danced with the Buena Vista Social Club and Ramon Padila, a legend of Cuban dance who sang with Nat King Cloe and Frank Sinatra.
Havana Rumba is at the Riverside Studios, Hammersmith from 31 March to 3 May.
Address: Riverside Studios, Crisp Road, Hammersmith, London W6 9RL
Box Office: 020 8237 1111
Tickets: £20 (£16 concs)