Foreplay by Mpumelelo Paul Grootboom in association with The South African State Theatre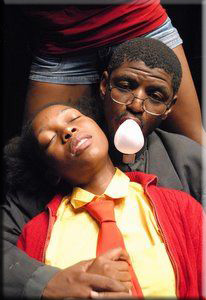 This is a modern South African adaptation of Reigen, about a series of ten love scenes of interconnected characters in different sexual situations. The setting is no longer Vienna during the 1890's, but the capital city of South Africa, Pretoria in 2008.
The scenes and structure of the play have been altered to fit specific South African scenarios, and although the circular structure of the original play has been maintained, the difference here is that the whole adaptation revolves around the world of theatre – based on the two characters in the play, the Poet/Playwright and the Actress.
Using the South African manner of storytelling, the play consists of six black actors (three males and three females) playing all the ten roles in the play, the Playwright acts as a narrator of sorts, connecting one vignette to another until the circle is completed at the end.
In 2006, Mpumelelo Paul Grootboom's Township Stories was hailed as one of the most significant pieces of theatre to come out of South Africa in recent years. Foreplay, his thrilling new work, is similar in style and energy. The play (based on La Ronde by Arthur Schnitzler) looks at a South Africa obsessed with sex and violence, where AIDS is still taking too many lives. Foreplay is also directed by Mpumelelo Paul Grootboom, Choreographed by Israel Bereta and Designed by Wilhelm Disbergen. The cast includes Excellentia Mokoena, Koketso Mojela, Ntshepiseng Montshiwa, Mandla Gaduka, Sello Zikalala and Boitumelo Shisana. Foreplay is coming to TRSE as part of an international tour.
Foreplay from 22 May to 13 June at Theatre Royal Stratford East, 7.30pm
Address: Theatre Royal Stratford East, Gerry Raffles Square, Stratford, London, E15 1BN
Box Office: 020 8534 0310
Tickets: £12, £16 (£8, £12 concs) Tues – Fri evenings & 3pm shows / £14, £20 (£10, £14 concs) Sat evenings