Breakin' Convention 09 UK Tour: The Sixth Annual International Festival of Hip Hop Dance Theatre
Headlining: VII Gems Rock Division feat. Ken Swift (USA) Rockin' It
Salah (France) The Dream of Gluby
MyoSung (Korea) The Revolution will not be Institutionalised
Plus performances from acts local to each venue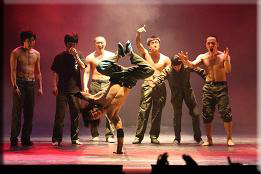 Fast becoming a globally renowned event, Sadler's Wells international hip hop dance theatre festival, Breakin' Convention, returns to host some of the world's hottest poppers, lockers, b-boys and b-girls across May Bank Holiday 2009, as part of a UK-wide tour.  Key cities include Edinburgh, Birmingham, Nottingham, Bradford, Newcastle, Wycombe, Salford and Plymouth.
In London, a jam-packed three days of performances, workshops, film screenings, DJ demonstrations and graffiti exhibitions, the sixth annual Breakin' Convention takes place at Sadler's Wells from Saturday 2 to Bank Holiday Monday 4 May 2009, before embarking on a nation-wide tour. Curated and directed by Sadler's Wells Associate Artist Jonzi D, the festival includes artists from Korea, France, and USA as well as the cream of the UK's hottest hip hop dance talent.
With performers still to be announced, Breakin' Convention's tour headline acts, Ken Swift, Salah and MyoSung are already confirmed. Performing for the first time in the UK, Ken Swift and his crew, VII Gems Rock Dance Division, bring their legendary style to Breakin' Convention 09 with Rockin' It. A true pioneer in Hip Hop dance, Kenny "Ken Swift" Gabbert is considered the epitome of a B Boy. A world-renowned driving force in Hip Hop dance for 30 years, amongst his many credits he's appeared in classic films Style Wars, Beat Street and Flashdance.
Affectionately known as the 'Charlie Chaplin of Hip Hop', Salah is one of the best known hip hop dance performers of this generation and has won numerous major dance contests worldwide as a master of popping, locking and breaking and freestyle. His recent victory on French TV Show Incroyable Talent has now made him a household name in Europe. He returns to the Sadler's Wells stage with The Dream of Gluby, first performed in the UK at Breakin' Convention 07.
MyoSung is an award-winning and much-lauded troupe of dancers based in Seoul, Korea, arguably the best B Boying nation in the world. MyoSung present an electrifying group of talented young B Boys in The Revolution will not be Institutionalised, a piece of dance with a powerful political message told with humour and sensitivity.
Breakin' Convention 09 UK Tour: The Sixth Annual International Festival of Hip Hop Dance Theatre  at Sadler's Wells Theatre, Rosebery Avenue, EC1R 4TN
Saturday 2 – Bank Holiday Monday 4 May 2009, then touring
1 Day Ticket: £20/£12, 2 Day Ticket: £32/£18, 3 Day Ticket: £48/£27
Ticket office: 0844 412 4300
Following the Bank Holiday Weekend festival at Sadler's Wells, Breakin Convention 09 is touring the UK. See full lisitngs below.
 Tue 5 May Wycombe Swan
Wed 5 May Wycombe Swan
Fri 8 May Nottingham Playhouse
Sat 9 May Nottingham Playhouse
Tue 12 May Birmingham Hippodrome
Wed 13 May Birmingham Hippodrome
Fri 15 May Bradford - St Georges Concert Hall
Mon 18 May Edinburgh Festival Theatre
Tue 19 May Edinburgh Festival Theatre
Fri 22 May Plymouth Theatre Royal
Sat 23 May Plymouth Theatre Royal
Wed 27 May Newcastle Theatre Royal
Thu 28 May Newcastle Theatre Royal
Sat 30 May Salford - The Lowry