A Place at the Table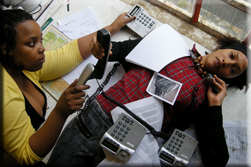 An international company of performers, artists, experts and eye witnesses invites the audience to take a place at the table, sharing food and memories as the repercussions of the assassination of Burundi's President Ndadaye are explored. A Place at the Table draws on Burundian traditions and mythology and varying accounts of the recent history of the Great Lakes region of Africa in a bold new work of visual and verbatim theatre.
The international company includes artists from Burundi, Rwanda, Uganda and Democratic Republic of Congo, and campaigner Richard Wilson, who has spoken on and written about Burundi extensively since his sister, Charlotte Wilson, was killed in the country in 2000, is an advisor.
Melchior Ndadaye, the first democratically elected president of Burundi, was assassinated in October 1993, just three months after his election. His assassination was one of the root causes of the subsequent ten year civil war in Burundi, and is closely tied to the causes and effects of several other conflicts in Rwanda and Democratic Republic of Congo, particularly those related to Hutu and Tutsi ethnicity.
A Place at the Table is the latest work by Daedalus Theatre Company, and organisation established in 1994 to provide theatre professionals with the opportunity to develop the kind of cutting edge experimental work they would not be able to make elsewhere. The company have developed a visually arresting style, most recently seen in productions including the critically acclaimed Selfish at The Arches, Glasgow, and Camden People's Theatre, London, and Out of Nothing for the Junction, Cambridge.
Artistic director and designer Paul Burgess has recently designed productions including Cradle Me (Finborough), Our Country's Good (Watermill), On the Rocks (Hampstead), Triptych (Southwark Playhouse), The Only Girl in the World (Arcola) and Jonah and Otto (Manchester Royal Exchange). As co-founder of Scale Project he has worked as a joint director-designer with Simon Daw on cross-arts collaborations across the UK and in Siberia. With Simon he also co-designed the installation Every Brilliant Thing for the Nabokov Arts Club. His own installation Dig was part of the Vauxhall festival. Film work includes projections for various plays and five short films shot in Ghana. He also teaches and is involved in a wide variety of youth arts projects.
A Place at the Table will be at the Camden People's Theatre from 15 April to 2 May (except Mon) at 8pm
Address: Camden People's Theatre, 58-60 Hampstead Road, London NW1 2PY
Box Office: £12/£8 concs
Tickets: 08700 600 100 or www.cptheatre.co.uk or on the door