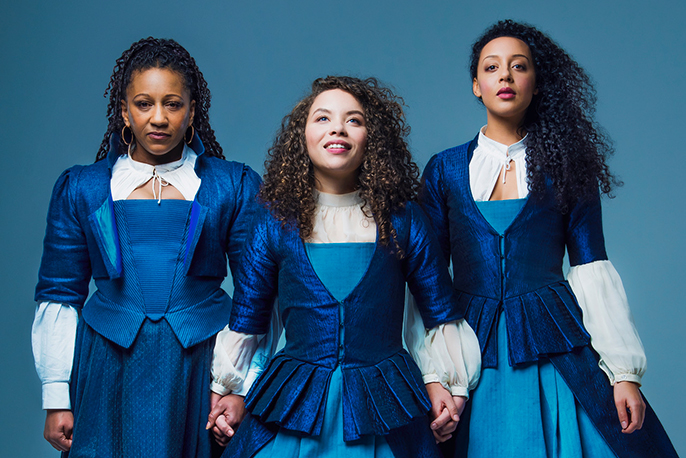 "A GLORIOUS BLAZE OF PASSION AND FURY… RICHLY FUNNY" (The Times).
1609. I AM EMILIA.
WRITER. WIFE. LOVER. MOTHER. MUSE.
400 years ago Emilia Bassano wanted her voice to be heard. It wasn't. Could she have been the "Dark Lady" of Shakespeare's sonnets? What of her own poems? Why was her story erased from history?
Emilia and her sisters reach out to us across the centuries with passion, fury, laughter and song. Listen to them. Let them inspire and unite us.
Celebrate women's voices through the story of this trailblazing, forgotten woman.
Stand up and be counted.
2019. WE ARE EMILIA.
Shakespeare's Globe's "EXTRAORDINARILY ROUSING NEW PLAY" (The Independent) which met with "WHOOPS, CHEERS, BELLY LAUGHS, A STANDING OVATION" (Time Out), now explodes at the Vaudeville theatre. An all-female cast playing both hers and hims rouses "AUDIENCES INTO A PITCH OF FERVOUR"(The Guardian) in a "MAGNIFICENT PRODUCTION" (The Stage) filled with "WIT, FIERCE INTELLIGENCE AND HEADY INTENSITY" (The Times).
Emilia is based on the life of Emilia Bassano who was a writer, teacher, poet and mother, said to have been 'The Dark Lady' of Shakespeare's sonnets and regarded by many as an early feminist figure. She was one of the first published female writers advocating female community by crediting the women who supported her. However her voice has been largely forgotten by history and little is recorded about her life.
Emilia was the first play commissioned by Michelle Terry when she became Artistic Director of Shakespeare's Globe and she entrusted writer Morgan Lloyd Malcolm to tell Emilia's story. This coincided with the #MeToo movement and the combining of the artistic idea and political movement meant the play, and its message that 400 years after Emilia not enough has changed, provoked a phenomenal response from audiences who were inspired, empowered and galvanised by her story. Emilia now transfers into the West End with an all-female creative and producing team and features an all-female cast playing men and women, mirroring Shakespeare.