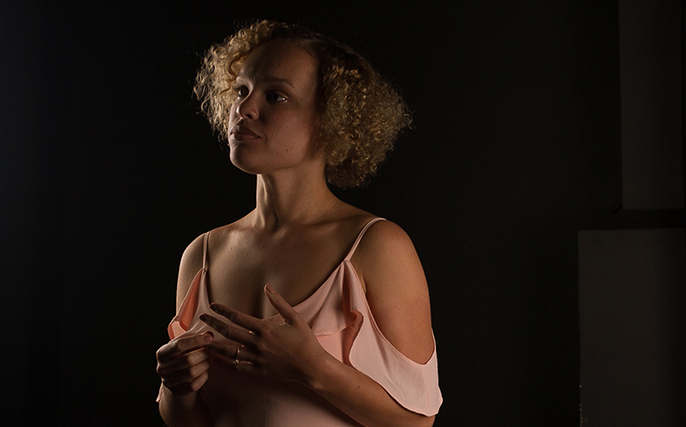 Who Do You Think You Are meets Don't Tell The Bride in a new one-woman show which explores how our concepts of race, identity and relationships can be challenged when we least expect it.
DOMINOES, written and performed by Phoebe McIntosh and directed by Stephen Wrentmore, will tour select venues in Dorset and London between March and April 2018.
The 60 minute show is the story of history teacher, Layla McKinnon, who is preparing for her wedding to Andy in the school holidays when she discovers an unsettling link in their pasts; one which poses a threat to her friendships, her sense of identity and the wedding itself. As she pieces together her family tree, reminisces about the past and worries about the future, she tries to hold onto her best friend and her husband-to-be and find out who she is and where she fits in.
The exploration of being what Layla calls, "a domino, a little bit of both - black and white", launches at Lighthouse, Poole, on 16th March followed by performances around Dorset before heading to Stratford Circus Arts Centre, London, on 28th and 29th March. DOMINOES is a pilot tour between Black Theatre Live and Lighthouse, Poole's Centre for the Arts, supporting emerging Black, Asian and Minority Ethnic artists on tour.
Phoebe, 32, has been working as an actress since 2008 when she completed her training on the MA Acting programme at Arts Educational, London. She has since worked in a range of independent films, commercials and theatre productions. DOMINOES is her second self-penned play. Not content with simply auditioning for existing roles, she began writing her own plays and casting herself. She wrote and performed in a sell-out run of her first play, THE TEA DIARIES, at the Edinburgh Fringe Festival in 2013.
She said: "Acting is the best job in the world, when you get the chance to do it. The nature of the business is that there are times when you'll be out of work as a performer. But I wanted to do something to tip the balance towards working (more often than not) by creating projects which excite me."
Black Theatre Live is a pioneering national consortium of 8 regional theatres led by Tara Arts, committed to effecting change nationally for Black, Asian & Minority Ethnic touring theatre through a sustainable 3-year programme of national touring, structural support and audience development.
SPRING 2018 TOUR DATES
Tickets cost £10 - £13 and full tour dates and booking details can be found at
http://blacktheatrelive.co.uk/tours/dominoes/tour-dates
Fri 16 to Sat 17 March, 8pm
LIGHTHOUSE
21 Kingland Road, Poole, Dorset, BH15 1UG
Box Office: 01202 280 000
Wed 21 March, 8pm
DORCHESTER ARTS
Corn Exchange, High East Street, Dorchester, Dorset, DT1 1HF
Box Office: 01305 266 926
Wed 28 to Thurs 29 March, 7pm
STRATFORD CIRCUS ARTS CENTRE
Theatre Square, Stratford, London, E15 1BX
Box Office: 020 8279 1080
Fri 6 April, 8pm
BRIDPORT ARTS CENTRE
South Street, Bridport, Dorset, DT6 3NR
Box Office: 01308 427 183