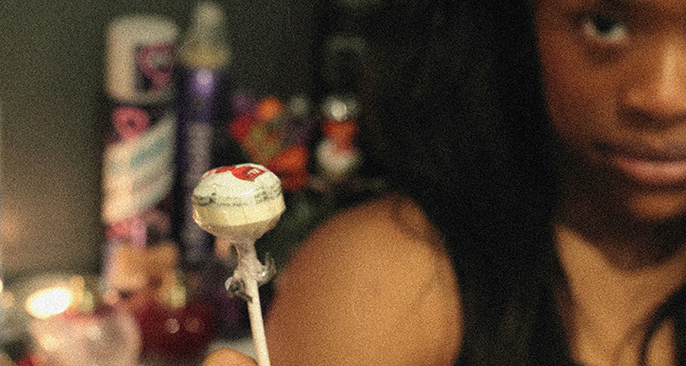 Developed with support from the National Theatre of Scotland, Southbank Centre, London and Soho Theatre, London
WINNER: Scotsman Fringe First and Flying Artichoke Award (Edinburgh Festival Fringe 2016)
An all-female black cast star in this multi-award winning, Afrobeat filled exploration of female empowerment, moving from the toilets of a Glasgow club now to the toilets of Fela Kuti's Shrine club in 80s Nigeria.
Written and directed by Adura Onashile | Music by Fela Kuti | Produced by Scottish Theatre Producers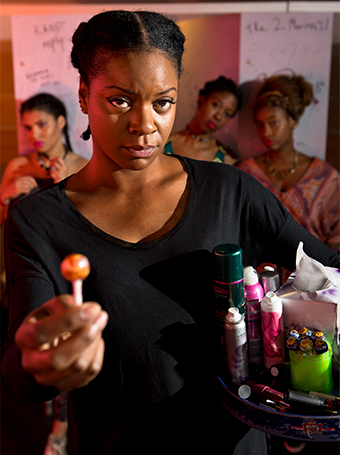 This bold four-hander, featuring the music and dance of Fela Kuti's Afrobeat genre, revolves around the life and experiences of Tolu, a toilet attendant, and her relationship to the women around her. The story moves from Glasgow, where Tolu is working in a toilet for tips, flashing back to the legendary Shrine Club in 90s Lagos, where a younger Tolu dreams of becoming a dancer in the revolutionary band of Fela Kuti.
Read our review of Expensive Shit
Bringing to life the Afrobeat scene of the 90s, contemporary club scenes and the hidden spaces within, this dynamic new work by Adura Onashile (Roadkill, HeLa) reflects on two different societies at two points in time. Expensive Shit interrogates the power dynamics of the male gaze whether under the guise of Fela Kuti's revolutionary politics in the 90's in Nigeria or in 2013 in Britain.
This story of one woman's desire to have power and control over her life is equally inspired by the stories of women disenfranchised and marginalised by the world of clubs, music and politics.
Writer and director Adura Onashile said: "Expensive Shit is an exploration of a set of contradictions, a private space that is actually a public space, a toilet attendant, exploited and hidden, is really a barometer for the politics of gender,power and class and a giant of African music whose revolutionary politics were inspiring but believed women were not equal to men.
"I grew up listening to Fela Kuti's music, and his ability to present uncomfortable truths in a way that is humourous and infectious has always inspired me. Women played a huge part in that aesthetic.  Tolu presented the opportunity to explore these traits through a female character, who because of the situation she finds herself in, has a particular way of looking at the world. I also wanted to explore the possibility of using the dance and language of Afrobeat to examine the way we look at ourselves, the way others look at us and how much power and agency we can have within that."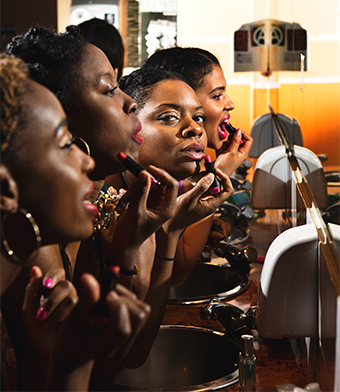 Adura Onashile's first written piece for theatre, HeLa told the true story of Henrietta Lacks, whose cells were taken without her permission and used as the raw material for some of the most important scientific discoveries of the last 100 years. The show's successful.
Performed by Kiza Deen, Veronica Lewis, Jamie Marie Leary and Maria Yarjah
Written and directed by Adura Onashile
Choreographed by Lucy Wild
Produced by Cat Tyre, Scottish Theatre Producers
Music by Fela Kuti
---
National Tour dates
Monday 6th March 2017
Platform, The Bridge, 1000 Westerhouse Rd, Glasgow, G34 9JW
7pm | £8.50 (£5/£4)
Box office: 0141 276 9696 (option 1) | www.platform-online.co.uk
Wednesday 8th March 2017
MacRobert Arts Centre, University of Stirling, Stirling, FK9 4LA
7.30pm | £12.50 (£10.50/£5.50)
Box office: 01786 466666 | www.macrobertartscentre.org
Friday 10th – Saturday 11th March 2017
Traverse Theatre, 10 Cambridge St, Edinburgh, EH1 2ED
7.30pm | £16.50 (£13.50/£8.50)
Box office: 0131 228 1404 | Tickets from www.traverse.co.uk
Tuesday 14th March 2017
Paisley Arts Centre, New Street, Paisley, PA1 1EZ
7.30pm | £10 (£6)
Box office: 0300 300 1210 | Tickets from www.boxoffice.renfrewshire.gov.uk
Wednesday 15th March 2017
Dundee Rep Theatre, Tay Square, Dundee, DD1 1PB
7.30pm | £14 (£12/£11/£10)
Box office: 01382 223530 | Tickets from www.dundeerep.co.uk
Thursday 16th March 2017
Cumbernauld Theatre
7.30pm | £10 (£7)
Box office: 01236 732 887 | Tickets from www.cumbernauldtheatre.co.uk
Friday 17th March 2017
The Lemon Tree, 5 West North Street, Aberdeen, AB24 5AT
7pm | £12 + BF (£10 + BF)
Box office: 01224 641122 | Tickets from www.aberdeenperformingarts.com
30th March – 1st April 2017
Tron Theatre, 63 Trongate, Glasgow G1 5HB
7.45pm | £14 (£10)
Box office: 0141 552 4267 | Tickets from www.tron.co.uk
4th – 22nd April 2017
Soho Theatre, 21 Dean Street, London, W1D 3NE
7.15pm & Sat matinees at 3pm | £14 (£12.50/£10) 
Box office: 020 7478 0100 | Tickets from www.sohotheatre.com