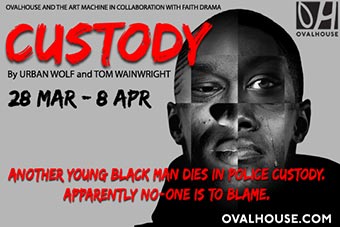 Another young black man dies in police custody. Apparently no-one is to blame. In 2017 how can that be so?
Custody, created by Urbain Hayo (The Art Machine) and written by Tom Wainwright (Banksy: the Room in the Elephant), is a contemporary fictional narrative about the moment another young black man's life is taken from him whilst in custody. The play follows Brian's bereaved family's struggle for justice and resolution and asks: who will protect us from the protectors of society?
Directed by Gbemi Ikumelo, Custody tackles a vital subject in a vivid, timely and authentic way. Black deaths in police custody are often assumed to be an American issue. Custody reminds us that they are not.
Inspired by Migrant Media's banned cult documentary films Injustice and Who Polices the Police, Custody draws on the real life experiences of families who have suffered from police injustice. Its exploration of the way young black men are treated by the police in Britain today draws directly from stop and searches experienced by Urbain Wolf.
Urbain Wolf comments, Since I watched the documentary film Injustice, the voices of the families of people who have died in police custody have stayed in my head, haunting me and bringing me to tears. Staging their stories in the theatre will allow more people to hear them and be inspired to do something to bring justice to these families.
Custody is a theatre project led by The Art Machine, in collaboration with story consultancy group Emotive Narrative and award-winning theatre company FAITH Drama Productions, with the support of Theatre Royal Stratford East. The Art Machine aims to create authentic work that speaks for those who are shut out and silenced, to raise awareness and provoke debate – and action.
Creatives
Creator Urbain Hayo (Stage name Urban Wolf)
Writer Tom Wainwright
Producer Hannah Tookey
Director Gbemisola Ikumelo
Assistant Director Eddie Howell
Movement Director Cindy Claes
Designer Phil Newman
Lighting Designer John Castle
Composer Dan Bilbrough aka Sekrit
Technical Stage Manage / Sound Design Michael Francis
Cast
Sister Kike Brimah Page
Lover Sacharissa Claxton
Mother Karlina Grace-Paseda
Brother Urbain Hayo (Stage name Urban Wolf)
Info: Custody, created by Urbain Hayo and written by Tom Wainwright will run at Ovalhouse Theatre (52-54 Kennington Oval, London, SE11 5SW) from 28 March to 8 April 2017 / Book tickets / Ages 13 + / Twitter #WhoIsBrian, @CustodyPlay, @Ovalhouse