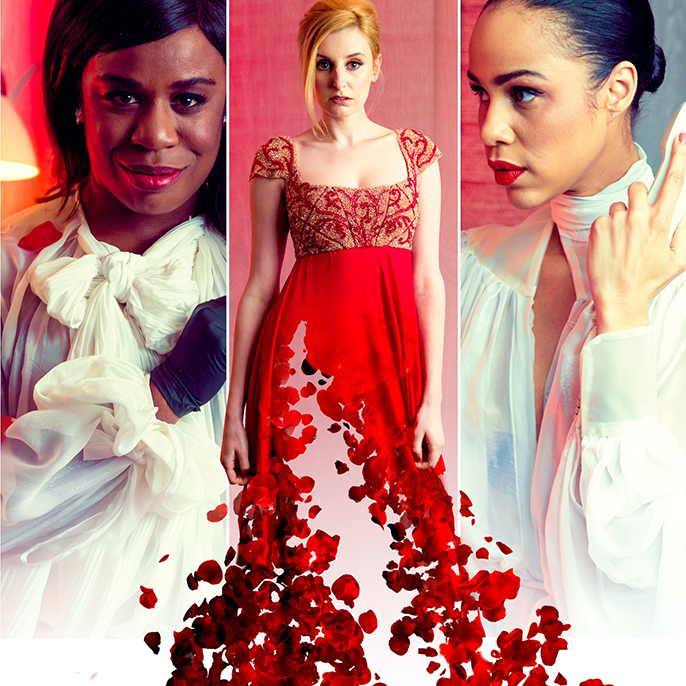 Double Emmy Award winner Uzo Aduba (Orange is the New Black), Zawe Ashton (Fresh Meat, Not Safe For Work) and Laura Carmichael (Downton Abbey) will star in Jean Genet's masterpiece
UK premiere of Benedict Andrews and Andrew Upton's contemporary version of The Maids
The Jamie Lloyd Company's first production of 2016 will be the full-throttle UK premiere of a contemporary adaptation of Jean Genet's powerful psycho-drama, The Maids, with an all-star cast - Uzo Aduba, Zawe Ashton and Laura Carmichael.
In a luxurious bedroom, two maids fantasise about killing their employer, playing out dangerous and sadistic scenarios as they plan her violent death.
An intense psychological thriller seething with unique theatricality and brimming with intrigue, The Maids is a vicious analysis of the class system, and a provocative exploration of gender and sexuality.
Uzo Aduba and Zawe Ashton will play the maids, Solange and Claire. Laura Carmichael will play Mistress.
Uzo Aduba said, 'I wanted to be a part of The Jamie Lloyd Company because they're interested in doing exciting work that is new, with a twist to it. It's work with a fresh edge. Jamie reinvents classic plays in a way that we've never seen before or have explored before. That's exciting as an actor. To be part of a play that allows for three women to mine such complex characters inside of an already rich and thrilling story, is the stuff that acting dreams are made on'
Zawe Ashton said, 'Being a part of The Jamie Lloyd Company is an opportunity I've been coveting for a long time! Jamie and I are reuniting on this production, having worked together on Headlong's production of Salome, and I couldn't be more thrilled. I've always been so excited by his vision as a director and to not only be collaborating with him but with two exquisite actors like Uzo and Laura on this fresh take on a classic text, is very juicy indeed. The Maids is one of my favourite ever plays and Jamie is one of my very favourite directors to work with. He's assembled such a dynamic company in every aspect and I know we all feel very excited about this unique material continuing to widen the reach the Trafalgar has when it comes to bringing a diverse and dynamic audience in through its doors.'
Laura Carmichael said, 'I'm really looking forward to working on The Maids. Jamie is such an exciting director. I love the way he tackles these classic plays. He has a clear vision and a passion to attract young audiences that I think is really cool. I'm also a big fan of Uzo and Zawe so am really excited to be working them.'
Info: The Maids is at The Trafalgar Studios 14 Whitehall London SW1A 2DY until May 21, 2016 / book tickets