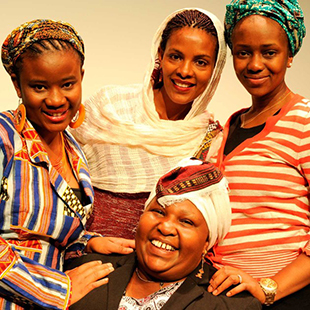 A celebration of women, human rights, laughter and resilience, The Baulkham Hills African Ladies Troupe tell the remarkable stories of four female refugees who fled Africa (Guinea, Sierra Leone and Kenya) to reside in the Baulkham Hills suburb of Sydney, Australia. Accompanied by a cast of three female actors and one singer, Yarrie Bangura, Aminata Conteh-Biger, Rosemary Kariuki-Fyfe and Yordanos Haile-Michael take to the stage toshare their individual histories of civil war, kidnap, employment as a child soldier and life in a refugee camp.
Looking beyond their turbulent pasts, the production celebrates a new beginning in a land of refuge and allows the women to be who they want, say what they want, and become as amazing as they can be. Placing often unheard voices centre stage, the production offers a snapshot of Africa and comes to Southbank Centre following two highly successful seasons in Sydney in 2013.
The Baulkham Hills African Ladies Troupe was produced by Racing Pulse Productions in association with Riverside Theatres and Belvoir, toured by Performing Lines and developed in association with NSW Service for the Treatment and Rehabilitation of Torture and Trauma Survivors (STARTTS).
Writer and Director: Ros Horin
Performers and Devisers:
Women: Yarrie Bangura, Aminata Conteh-Biger, Yordanos Haile-Michael and Rosemary Kariuki-Fyfe
Actors: Nancy Denis, Imat Akelo-Opie and Effie Nkrumah
Singer and Songwriter: Aminata Doumbia
Info: There will be a post-show Q&A on Thursday 5 and Friday 6 March, and BSL interpretation will be available on Friday 6 March | Book tickets