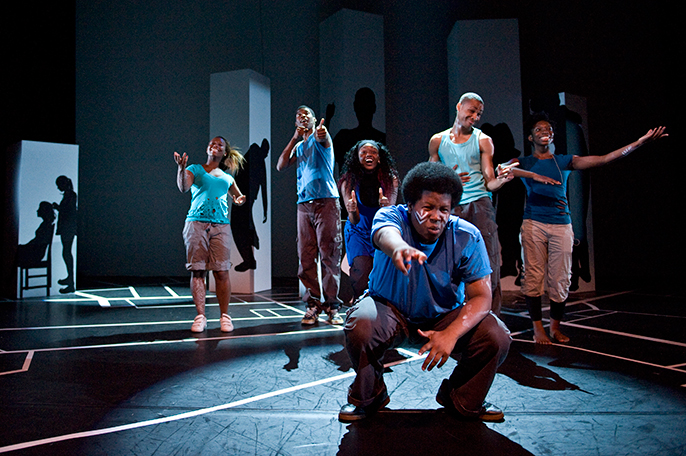 Talawa Theatre Company presents KRUNCH
Who are you? Where are you from? From the colour of your skin to the size of your chin, nose, hair and even the clothes you wear. What makes me, me? And what makes you, you?
This March, Talawa Theatre Company, Britain's foremost Black-led theatre company, will bring Krunch: a searing exploration of what it means to be young, Black and British to audiences at The Albany, The Drum and Tara Studio.
Tackling topics from Facebook to freedom, surveillance, politics and The X Factor, temperatures will rise as voices find expression, energy collides and boundaries are pushed. The result is energetically explosive theatre, as an eight-strong cast mix spoken word with krumping, a style of street dance popularised in the US, to a live music set by DMC Supremacy Champion DJ Matman.
Krunch was created by Talawa Young People's Theatre in 2009, evolving from an intensive four-week workshop period with the actors, who penned original lyrics, and a creative team including Amani Naphtali and North London based krumper Kymberlee Jay who created an expressive movement style for the company. Since its first performances at the Bernie Grant Arts Centre in London, Krunch has also been showcased at the prestigious National Arts Festival in Grahamstown, South Africa to critical acclaim.
Krunch features a live set by Matt Smith (DJ Matman) and is performed by: Shaun Blackstock, Sapphire Joy, Emmanuel Koduah, Anthony Lowe, Reuben Massiah, Shanika Warren-Markland, Stephanie Yamson and Maria Yarjah. The production features set and costumes by Susannah Henry and lighting by Ian Saunders.
Since its inception in 1986, Talawa has grown to become one of the most successful Black theatre companies in the UK. It has mounted more than forty productions – many of which are award-winning. A number of Britain's finest actors have worked with Talawa including Norman Beaton, Cathy Tyson, Don Warrington, Danny John-Jules and Mona Hammond, and Talawa writers, directors and personnel now work in all areas of British theatre.
Current Artistic Director, Pat Cumper, has been at the helm for the past 5 years and now takes Talawa into its 25th anniversary year. A year of dynamic programming across 2011/12 that celebrates Talawa's past and blazes a trail for the future will be announced shortly.
THE ALBANY: 2 – 4 March 2011
Douglas Way, Deptford, London, SE8 4AG
Performance times: 7.30pm, matinee on 2 March at 2.30pm
Tickets: £9 (£6), £5 schools
Box Office: 020 8692 4446
www.thealbany.org.uk
THE DRUM: 11 & 12 March 2011
The Drum, 144 Potters Lane, Aston, Birmingham, B6 4UU
Performance times: 7:30pm, matinee 11 March at 1.30pm
Tickets: £8 (£6), £3.50 schools
Box office: 0121 333 2444
www.the-drum.org.uk
TARA ARTS STUDIO: 17 March 2011
TARA Arts, 356 Garratt Lane, Earlsfield, London SW18 4ES
An Audience with Krunch featuring The Albany's Dig Deptford and ArtsBeat (Tara's young people's theatre group) at 7.30pm.
Tickets: £5.50 (£4)
Box office: 020 8333 4457
www.tara-arts.com
---
Related links
Review: Krunch 2011, Albany Theatre