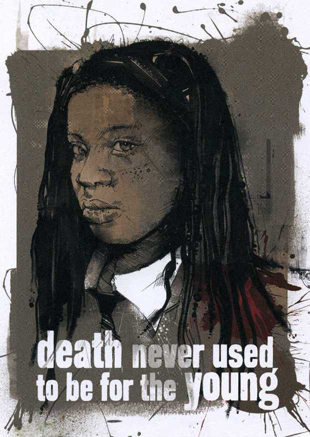 In this remounted production, Seroca Davis will perform the one-woman monologue which includes portraying 14 different characters.
Death never used to be for the young…
"Two piece a Police cars park outside our yard right outside our yard. For all to see. For all to know."
A family wake up to a normal day. By lunchtime one random act has changed everything. An urgent and powerful play.
random premiered at the Jerwood Theatre Downstairs at the Royal Court in March 2008. After its four week run at the Elephant and Castle, it will embark on a four week tour to Birmingham, Bristol, Sheffield and Deptford in June 2010.
Theatre Local opens on 3 March 2010 with random at Elephant and Castle Shopping Centre, London SE1 6TE.
random by debbie tucker green will be at Unit 215-216 Elephant and Castle Shopping Centre, SE1 from 3 to 27 March at 7pm, Mondays to Saturdays. Matinees - Wed 17, Sat 20 and Sat 27 at 4pm. Wed 3 Mar Pay What You Like Night
Suitable for ages 14+
14+Age 14+
Tickets: £8 (£5 concs* and groups*)

Box Office: 020 7565 5000 or www.royalcourttheatre.com or in person at Elephant and Castle from four hours before the performance until the start of performance on a first come, first served basis (cash only).

* ID required, not bookable online. All discounts are subject to availability. Further tickets will be released during the week of performance with a minimum of 20 tickets available on the day of performance. To book call 020 7565 5000, or book online at www.royalcourttheatre.com
There will be a cash only Box Office outside Unit 215-216 at the Elephant and Castle shopping centre open from 4pm on performance days (1pm for matinees). Tickets will be sold on a first come, first served basis.
Royal Court - Random by Debbie Tucker Green
Random by Debbie Tucker Green - courtesy of YouTube.com