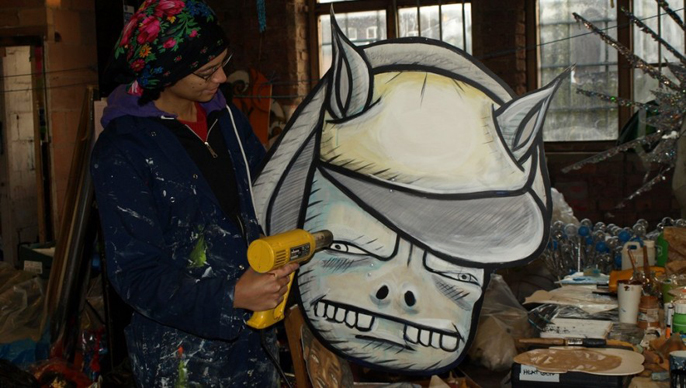 Fusing Grime, Dubstep, Ska, Puppetry, Hip-Hop Theatre, Street Art and Dance, Ghost Boy is an anarchic, energetic and challenging piece of theatre brought to you by an eclectic range of artists: dancers, puppeteers, live musicians and actors, including Everal Walsh (Channel 4's Max and Paddy) and Tachia Newall (BBC's Waterloo Road).
20 Stories High is one of Liverpool's most vibrant and groundbreaking theatre companies and is passionate about making excellent theatre with and for young people. Working with narrative and musical influences of local young people, they capture the imaginations of their audiences with bold renderings of contemporary tales. Visit their website to hear some of the music they have been making…
Ghost Boy is a play about forgiveness and retribution – and about the breakdown of communication between younger and older generations.
Welcome to Lemonade Estate. A place between the city and the hills, a place that people have forgotten, a place where the kids are running wild….
Jamal is a boy from a "good home". A bright kid who likes to let off steam…one day he tries to "tax" another boy Michael for a can of pop. After a tussle and some confusion Jamal stabs Michael and he dies. Months pass and Jamal escapes detection, but he is forever haunted by Michael…The GHOST BOY
Meanwhile on the other side of the estate, Ghost Boy's father Dennis has had enough of the youth on the estate. He decides to take the law into his own hands and transforms himself into a vigilante superhero FLY MAN…
After a "misunderstanding in the multi storey car park", Dennis is arrested. He serves his community service where eventually ends up meeting Jamal…
Ghost Boy is told using influences ranging from Grime, Ska and Classical Music, and dance influenced by breaking to contemporary and ballet.
The production team includes:
Jason Singh - Beatboxer/Sonic Artist
Jason Singh is an international beatboxer, DJ, experimental percussionist, workshop facilitator, composer and visual artist.
www.myspace.com/jasonsinghmusic

Michelle Udogu aka Ebere - vocalist
''Ebere'' started her career singing freestyle in clubs and house parties in Manchester. She has a repertoire of traditional Cuban/ Nigerian Songs deriving from Santeria and Candomble and regularly plays alongside Master Bata Drummers from Cuba and the UK
www.myspace.com/ebere

Georgina Aasgard – Cellist
Georgina is an exceptional cellist. As well as playing regularly with Liverpool's Philharmonic Orchestra, her work has taken her globally performing live with Led Zepplin and Tina Turner.

Tachia Newall aka Truth MC
As well as being an accomplished actor ( Bolton Smilie – Waterloo Road) Truth MC is an experimental Grime/Hip-Hop artist and producer

Jo Pocock – Co-Designer
Jo Pocock is one of the leading visual theatre designers in the county. Specialising in amazing puppetry and masks, she was one of the original design team for Improbable Theatre's award winning "Shockheaded Peter"

Sophie Choupas aka Sofiski – Co-Designer
Sofiski is a multi-disciplinary street artist from Marseille. Specialising in design, illustration and animation. Her surreal brand of imagery has given her a global reputation. www.sofiski.com
Ghost Boy Trailer 1
Video courtesy of Youtube.com
Ghost Boy Trailer 2
Video courtesy of Youtube.com
Related links
20 Stories High official website

---
Tour dates
3 – 13 March: Contact theatre www.contact-theatre.org
24 – 27 March: Birmingham Rep www.birmingham-rep.co.uk
29 / 30 March: New Wolsey Theatre www.wolseytheatre.co.uk
1 – 3 April: Bernie Grant Arts Centre www.berniegrantcentre.co.uk
13 – 17 April: Curve, Leicester www.curveonline.co.uk
20 – 24 April, Everyman, Liverpool www.everymanplayhouse.com