Fuel presents Inua Ellams' The 14th Tale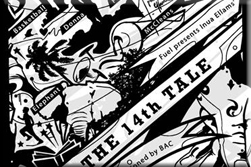 "I'm from a long line of trouble makers, of ash skinned Africans, born with clenched fists and a natural thirst for battle, only quenched by breast milk."
The 14th Tale is a free flowing mellifluous narrative that tells the hilarious exploits of a natural born mischief growing from the clay streets of Nigeria to the roof tops in Dublin, and finally to London.
Inua Ellams is a word and graphic artist. This is his first full length piece.
A BAC Scratch Commission.
The 14th Tale will be at the Arcola Theatre from 18 - 20 March at 8.15pm
Address: 27 Arcola Street, London E8 2DJ
Box Office: +44 20 85104500 / www.arcolatheatre.com
Tickets: £9, £7 con