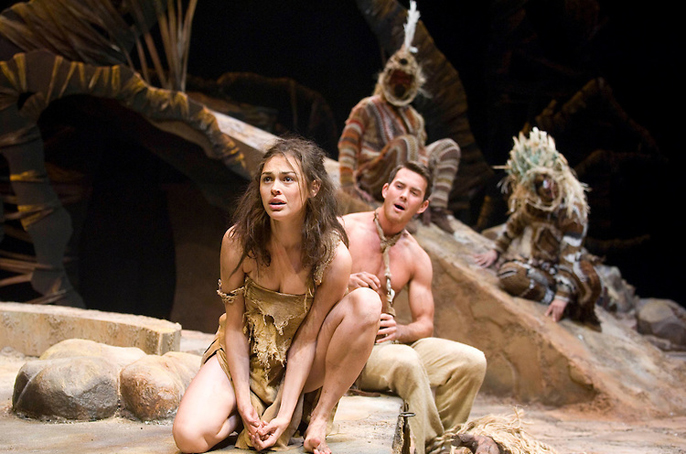 The Royal Shakespeare Company in association with the Baxter Theatre Centre in Cape Town will tour The Tempest, Shakespeare's magical last play, to Richmond, Leeds, Bath, Nottingham and Sheffield in March and April 2009. The production takes to the road after opening in Cape Town, South Africa at the Baxter Theatre Centre in January 2009, and a run at the RSC's Courtyard Theatre in Stratford-upon-Avon in February/March 2009.
A co-production between the RSC and the Baxter Theatre Centre, this unique Tempest, filled with African ritual, music and dance, will feature a totally South African cast and will be created by three of South Africa's foremost theatrical talents. The director Janice Honeyman (who directed the acclaimed RSC production of Athol Fugard's Hello and Goodbye in 1988) brings two of the country's most celebrated actors onstage together for the first time, Antony Sher as Prospero and John Kani as Caliban.
Baxter brought its production of Hamlet to Stratford in 2006 during the RSC's Complete Works Festival.
Joining Sir Antony Sher as Prospero and John Kani as Caliban, the formidable cast of South African actors will includes John Kani's son, Atandwa Kani (Ariel), and all three Brett Goldin Bursary* recipients – the 2007 recipient, Omphile Molusi (Sprite) and the 2008 recipients Thambi Mbongo (Sprite) and Nicholas Pauling (Sebastian).
The cast also includes: Ivan Abrahams (Gonzalo), Jeremy Crutchley (Alonso), Nkosinathi Gaar (Sprite), Alex Halligey (Sprite), Charlie Keegan (Ferdinand), Elton Landrew (Stephano), Lionel Newton (Antonio), Chuma Sopotela (Sprite), Royston Stoffels (Adrian/Fransisco), Wayne van Rooyen (Trinculo) and Tinarie van Wyk Loots (Miranda).
---
Related links
www.rsc.org.uk
www.baxter.co.za

Baxter Theatre Centre, Cape Town, South Africa
15 January – 6 February 2009

The Courtyard Theatre, Stratford-upon-Avon
14 February – 14 March 2009
Box Office: 0844 800 1110
www.rsc.org.uk

Richmond Theatre, Surrey
19-28 March 2009
Box Office: 0870 060 6651 (bkg fee)
www.richmondtheatre.net (bkg fee)

Grand Theatre, Leeds
31 March – 4 April 2009
Box Office: 0844 848 2700 (bkg fee)
www.leedgrandtheatre.com (bkg fee)

Theatre Royal, Bath
7-11 April 2009
Box Office: 01225 448844
www.theatreroyal.org.uk

Theatre Royal Nottingham
14-18 April 2009
Box Office: 0115 989 5555 (bkg fee)
www.royalcentre-nottingham.co.uk

Lyceum Theatre, Sheffield
21-25 April 2009
Box Office: 0114 249 6000 (bkg fee)
www.sheffieldtheatre.co.uk