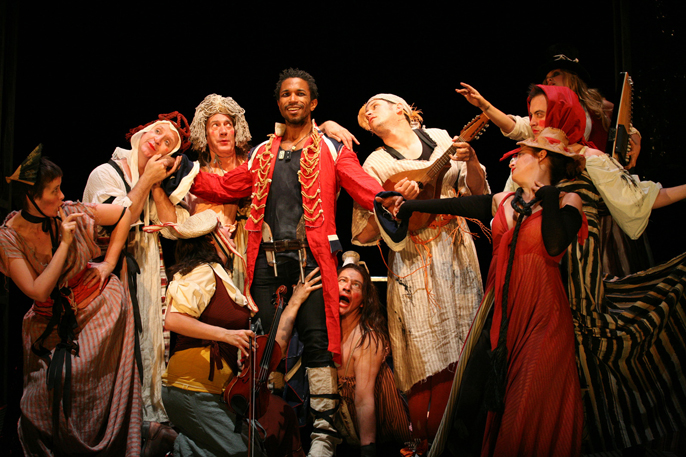 The Convict's Opera relocates a staging of John Gay's famous work The Beggar's Opera; to onboard a ship bound for Australia, performed by the ships inhabitants – convicts. As tempers fray during an arduous, many months journey, talk of mutiny is a constant bubbling threat with the potential to disrupt both the entertainment to be performed for the Captain's enjoyment and the lives of those being transported. Just as with Gay's ballad opera, The Convict's Opera draws on an eclectic selection of music. Taken from the past and present (including reworkings of recent classics such as 500 Miles (The Proclaimers), You're So Vain (Carly Simon) and Stand By Me (Ben E. King), a range of instruments are used by the British and Australian actor-musicians throughout the production. The Convict's Opera had its world premiere at Sydney Theatre in Autumn 2008.
One of the lead roles is played by black singer Juan Jackson. Juan plays Harry Morton, a man of mystery onboard the convict ship (and the role of MacHeath in the performance of The Beggar's Opera). Juan was born in the States and lives in Australia. He has family in the US still and was excited by the recent presidential election. He has a key role in the production (both productions) his career spans musicals, opera, concerts and recording as well as theatre. The cast are being re-united for the UK tour after the world premiere of the play at Sydney Theatre this Autumn. Some of the cast are British and some are Australian.
The Convict's Opera is written by Stephen Jeffreys and directed by Max Stafford-Clark.
UK tour 2009
---
Related Links
Review: The Convict's Opera a co-production by Out of Joint and Sydney Theatre Company, Rose Theatre – on-tour