The Jean Adebambo Memorial Benefit Concert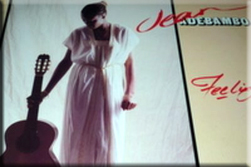 Eight weeks after her death, Jean Adebambo's legacy lives on in a tribute charity concert and memorial ceremony hosted by Angie Le Mar and Eddie Nestor, the concert at the renowned east London theatre will generate funds for the education and upbringing of the gifted singer's two teenage daughters.
Jean Adebambo was born in London , England to a Montserration mother and a Nigerian father. Her entry into the music business was by chance. Whilst she was in training to enter the Health Care profession, she was invited to do a cover version of two records entitled 'Again' and 'Reunited' by Ital Records in the early 1980s. However, not until her pairing with the Jamaican producer and by now London resident Leonard Chin did she really embark on a successful solo career. Thereafter, a string of hits followed such as the monster single ' Paradise ,' 'Reaching For A Goal', 'Hardships of Life' and 'Pipe Dreams'.
But for all the popularity of her 80's output, Adebambo quit the music business and returned to the Health Care profession securing a role as a health visitor in Bermondsey. After a well-received performance at The British Lovers Rock Gala Awards Show in London and Wolverhampton in September 2008, Jean was persuaded to revive her career. Her last performance was a fundraising event at the Aldersbrook Lawn Tennis Club in east London . Prior to that she played host to an unplugged session at the D'Eclipse club and restaurant in south London.
Performers include Janet Kay, Caroll Thompson, Sandra Cross, Paulette Tajah, Peter Hunningale, Matumbi, Victor Romero Evans, Wayne Marshall, Donna Rhoden, Sylvia Tella, Lorna Gee, Vivan Jones, YolanDA Brown, Rick Clarke, Paul Dawkins, Winsome, Lloyd Brown, Angie Le Mar, Donna Spence, Eddie Nester, Robbie Gee, Glenda Jaxon, and Judith Jacob.
The Jean Adebambo Memorial Benefit Concert will be at the Hackney Empire from on 15 March at the Hackney Empire from 7pm-11pm
Address: 291 Mare Street , London E8 1EJ
Box Office: +44 20 85104500
www.hackneyempire.co.uk
Tickets: £15, £17.50 or £20