Henri Oguike Dance Company – 10th Anniversary - UK Spring Tour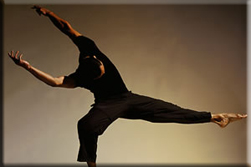 Henri Oguike Dance Company celebrates 10 years of presenting musically inspired choreography of the very highest quality with a spring UK tour. As part of the anniversary celebrations Jerwood Choreography Award winner Henri Oguike, and his multi-award winning company of nine dancers, present three contrasting and musically diverse dance pieces from its rich back catalogue. HODC received the coveted National Dance Award Company Prize for Outstanding Repertoire (Modern) 2007. Oguike's signature piece, the critically acclaimed, Front Line (2002) is a searing and poignant sextet, performed to Shostakovich's 9th Quartet and played live by Classical Brit Award 2008 nominees the Pavão Quartet.  Scarlatti's bright and rhythmic pieces for harpsichord provide the starting point for the stylish septet White Space (2004), whilst the joyous full company work Finale (2003) is performed to the carnival rhythms of René Aubry's music.
This anniversary triple-bill is enriched by a screening of Falling (2007); a dance-film directed by Dan Farberoff and inspired by NASA astronaut Steve MacLean's space walk. Falling is a moving and mesmerising duet choreographed by Oguike, featuring an original soundtrack of piano and voice by Errollyn Wallen with narration by Steve MacLean himself.
Tour Dates
22/23 Jan, Cambridge Arts Theatre, Cambridge 01223 503333
10 Feb, Corn Exchange, Brighton Dome 01273 709709
11 Feb, Malvern Theatres, Malvern 01684 892277
26 Feb Contact, Manchester 0161 274 0600
04 Mar, Theatre Royal, Bury St Edmunds 01284 769505
12 Mar, Jersey Opera House, Jersey 01534 511115
14 Mar, New Brighton Floral Pavilion, Wirral 0151 647 0752
24 /25 Mar, QEH, Southbank Centre, London  0871 6632500
27 Mar, South Hill Park, Bracknell 01344 484123