Boy Blue Entertainment UK / Pied Piper: A Hip-Hop Dance Revolution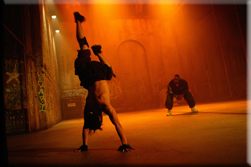 Pied Piper is a bold, contemporary, hip-hop street dance interpretation of Robert Browning's poem The Pied Piper of Hamelin, which won an Olivier Award for Outstanding Achievement or Performance in an Affiliate Theatre at Theatre Royal Stratford East in 2006. It is now revived at the Barbican for audiences who missed the original sell-out production.
Pied Piper closely follows the structure of the original story but this version of the morality tale is told from an edgy, modern perspective. In a typical urban setting the rats become ASBO'd hooded youths. The Pied Piper, played by Kenrick 'H2O' Sandy, choreographer and co-founder of Boy Blue Entertainment, promises to rid the streets of the so-called vermin of society but when the city Governors renege on their deal the Pied Piper takes his revenge. The exhilarating energy of the young dancers creates an innovative and thrilling 90-minute performance. Original music is by Boy Blue Entertainment co-founder Michael 'Mikey J' Asante and the show is directed and designed by ULTZ.
Michael 'Mikey J' Asante and Kenrick 'H20' Sandy founded Boy Blue Entertainment in 2001, with the aim of encouraging teenagers to embrace dance while teaching discipline, team building and exposing them to performance and story-telling. Since then it has provided access to dance training to more than 500 young people, many of whom perform in Pied Piper, and it is now East London's most innovative street dance troupe.
On Sunday 8 March, as part of the Barbican's Do Something Different Weekend, Boy Blue Entertainment showcases the work of its youth groups with a hip-hop performance in the foyers, followed by an opportunity for audiences to participate.
Pied Piper and Do Something Different Weekend are part of EAST, a festival championing the best of East London's fashion, film, food, art, history and performance.
Running time: 90 minutes/no interval / Age guidance: 10+
Boy Blue Entertainment / Pied Piper will be at the Barbican Theatre from 05 to 14 March '09. Also 2.30pm on 07, 08 / 14 March '09.
No performance: Monday 9 March '09.
Audio described performance: Saturday 14 March '09, 2.30pm, preceded by touch tour, 2.00pm
Address: Barbican Centre Silk Street EC2Y 8DS  
Box Office: 0845 120 7550
Tickets: £10.00 – £26.00
Bite Multi-Buy: save 10% when buying tickets for three or more performances in the bite season in the same transaction.
Barbican Corporate Membership: 25% off ticket price.
Barbican Members (Barbican Theatre and the Pit): 20% off all performances.
Groups of ten or more: 20% off ticket price.
Students: 50% off ticket price on Wednesday evenings. Advance booking necessary. Proof of eligibility must be shown.
Families: 50% off ticket price for up to three under-16s with each full paying adult.
Members of the Barbican Access Membership Scheme: May be eligible for discounted tickets. Advanced booking necessary.
Schools (Barbican Theatre): £12.00 Stalls, £8.00 Circle.
All discounts are subject to availability and cannot be combined to make greater saving.
Do Something Different Weekend Boy Blue Entertainment
Venue: Barbican Foyer  on Sunday 8 March, 1.30pm
Tickets: free / Running time: 45 minutes/no interval