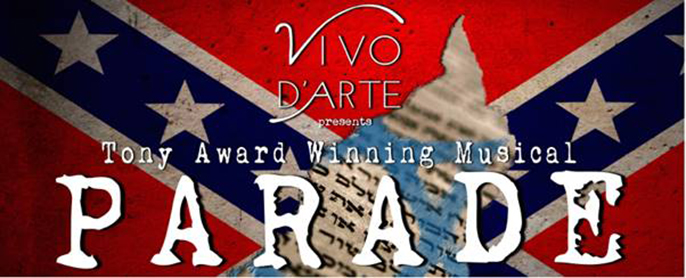 PARADE THE MUSICAL was first produced on Broadway at the Vivian Beaumont Theatre on December 17, 1998. The musical won Tony Awards for Best Book and Best Original Score and tells the tragic, true story of the trial and lynching of a man wrongly accused of murder. Brought to emotional and theatrical life by acclaimed playwright Alfred Uhry ("Driving Miss Daisy") and Jason Robert Brown, one of Broadway's most promising young composers ("Songs For A New World").
PARADE tells the heart wrenching true story of Leo Frank, a Brooklyn-born Jew living in Atlanta, Georgia who was accused of the murder of his 13 year old employee Mary Phagan in 1913. Already guilty in the eyes of everyone around him, a sensationalist publisher and a janitor's questionable testimony along with litany of false testimonies, clearly lacking any real, clear evidence seal Leo's fate. His only defenders are a Governor with a conscience, and, eventually, his Southern wife who finds the strength and love to become his greatest champion.
The momentous case drew attention to Anti-Semitism, but it also served to revive the Ku Klux Klan in the South. Georgia's Governor eventually commuted his sentence from death to life imprisonment. Defying this ruling, a lynch mob hanged Leo Frank in Mary Phagan's hometown of Marietta Georgia.
Info: Parade the Musical is at Watford Palace Theatre - 20 Clarendon Road, Watford, Hertfordshire WD17 1JZ from June 10th – 13th 2015 (7:30pm 10th-12th June , 2:30pm Matinee & 7:30m 13th June) | Book tickets | For more information visit http://www.vivodarte.co.uk