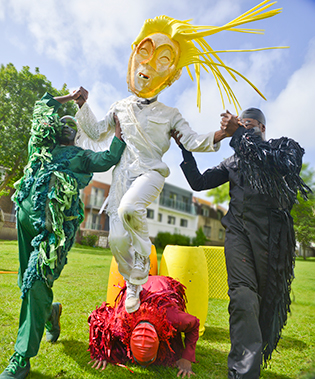 Hamba set off to war. He won and lost empires, became a king, a beggar, a poet and a thief. A hundred years later he is no closer to home.
The Legend of Hamba is a contemporary African Everyman play created specifically for outdoors presentation. Co-commissioned by Without Walls, Brighton Festival, GDIF, Hat Fair and Watford Palace Theatre.
World premiere: Sunday 11 May 2014 at the Brighton Festival.
Further performances at Greenwich and Docklands International Festival (22-26 June) and Imagine Watford Festival (28-29 June) with additional showings to be announced.
'Hamba' is an Ndebele word meaning, 'Walk!' or 'Let's go! Ndebele is one of the three major official languages in Zimbabwe. In everyday speech it conveys a sense of urgency and energy; metaphysically it communicates a spirit of progress, vitality and perpetual forward motion., 'The Legend of Hamba' is conceived as a 20-30 minute physical picaresque, loosely based on the 'The Everyman' Morality Play. It follows the fortunes of a central character, Hamba, through three 'Ages of Man': The Ages of Conquest, Excess and Harvest., With a cast of four performers using voice, movement, text, masque, music and 'found' objects Hamba seeks to explores and reflect on the triumphant and tragic consequences of the primal urge of humanity to survive and endure. More
Info: The Legend of Hamba