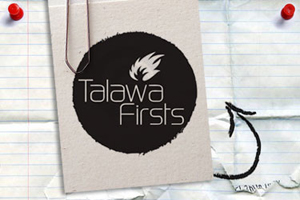 For three weeks Talawa's studio is a hub of activity as upcoming directors lead development workshops on the scripts of emerging writers, followed by a series of play readings and discussions.
Series of new plays curated by Talawa Artistic Director MICHAEL BUFFONG by rising Black British writers: REX OBANO, ANTHONETTE ISIOMA, MARTIN EDWARDS, REBECCA DAVID, SHARLA SMITH and DD ARMSTRONG.
DD ARMSTRONG's new play 'You Know What You Are' to tackle the ongoing issue of racism in football both on and off the pitch.
Piece in development by all female company WOMEN IN THE SPACE examines what it is to be young, black and female.
Platform discussions with Young Vic Artistic Director DAVID LAN, Talawa Artistic Director MICHAEL BUFFONG and writer NINA STEIGER.
Wednesday 5 June at 7pm: STAGED READING
HALF A LIFE
Written by Rex Obano
Directed by Clint Dyer
Talawa Studios, Old Street

Half a Life is a harrowing drama that tells the stories of Lee, Cara and Barry whose search for identity lies in family, friendship and the truths buried in their childhood.

REX OBANO
Rex Obano was born in London and was educated at the University of North London where he read Philosophy. Half A Life was shortlisted for the Alfred Fagon Award. Theatre: Slaves (Theatre 503 – shortlisted for the Alfred Fagon Award), The Door Never Closes (The Almeida Theatre) Radio: Burned to Nothing (BBC Radio 4) Lovers Rock (BBC Radio 3). Television: Rastamouse (CBeebies).

Thursday 6 June at 7pm: Q&A
DAVID LAN – THE SUCCESS OF DIVERSE PROGRAMMING: THE YOUNG VIC CASE STUDY
Talawa Studios, Old Street

David Lan, Artistic Director at the Young Vic, presents a case study of the impact, difficulties and rewards of implementing one of the UK's most diverse programmes. This is an evening for theatre programmers to explore and learn about the Young Vic experience.

DAVID LAN
David Lan is a playwright, filmmaker, theatre director and social anthropologist. Since 2000 he has been Artistic Director of the Young Vic theatre where he has produced more than 150 shows and directed, amongst others, A Raisin in the Sun, Doctor Faustus, The Daughter-in-Law, The Skin of Our Teeth, Joe Turner's Come and Gone and Blackta as well as As You Like It in the West End. He led the campaign to rebuild the theatre, which reopened to acclaim in 2006. He was writer in residence at the Royal Court theatre 1995/7. In addition to his many plays, libretti and films, he is the author of an anthropological study Guns and Rain: Guerrillas & Spirit Mediums in Zimbabwe. He has written and/or directed a number of documentaries for the BBC, mostly set in Africa. He chairs the Belarus Free Theatre and is co-director of World Stages London. He has received the John Whiting Award, the George Orwell Award, an Olivier Award and an Honorary Doctorate from the University of the South Bank.

Friday 7 June at 7pm: HOTSPOT WORK IN DEVELOPMENT
THE NEW VOICE OF HOME
Written and directed by Anthonette Isioma
Talawa Studios, Old Street

The Opiah family has always been very reputable, rich and proud but now the generational gap of experience is causing the family problems and a house divided against itself cannot stand.

ANTHONETTE ISIOMA
Anthonette is a director and writer who is passionate about storytelling. She has trained with the Young Vic and on the MA Directing course at RADA, after graduating with a BA (Hons) in English Literature, Drama, Theatre and Performance from Roehampton University. Directing credits include: The House of Zerquera by Atiha Sen Gupta (Young Vic Theatre - as part of Talawa Theatre's Flipping the Script) and Late Bus To Mecca by Pearl Cleage (Albany Theatre). She has worked as an assistant director on Three Sisters by Anton Chekhov (RADA), The Maids by Jean Genet (RADA) and assisted for the Islington Community Theatre and Oval House. She freelances as a writer and has completed the Royal Court's Young Writers Programme.

Wednesday 12 June at 7pm: STAGED READING
THE GLORY ROAD
Written by Martin Edwards
Directed by Monique Sterling
Talawa Studios, Old Street

A former rundown part of London now transformed into the latest property hotspot is the setting for this new play that seeks to examine questions of race, gentrification and what it means to belong.

MARTIN EDWARDS
After graduating from Cambridge University in Social & Political Sciences, Martin pursued a career in journalism. His first job was as a trainee on his local paper The Wembley Observer. He was later headhunted by BBC London where some of his most notable stories included the London terror attacks on 7th July 2005. After more than 10 years working as a journalist, Martin took a change in direction and retrained as an actor, studying for two years at The Oxford School of Drama. Martin also helps run act up, an independent London-based organisation specialising in communication and acting training.

The Glory Road is Martin's first play.

Thursday 13 June at 7pm: Q&A
NINA STEIGER – BEYOND PITCH:
HOW TO TELL THE WORLD ABOUT YOUR VOICE AS AN ARTIST AND EMPOWERED WRITER
Talawa Studios, Old Street

Nina Steiger is Associate Director at Soho Theatre and leads the Company's work with writers. Alongside her work there, she is also interested in the intersection of traditional theatre and digital media with a focus on interactive performance, game design, pervasive technologies and transmedia narratives.

Friday 14 June at 7pm: HOTSPOT WORK IN DEVELOPMENT (DOUBLE BILL)
DEEP
Written by Rebecca Ubuntu David
PERCEPTION-ISM
Written and directed by Sharla Smith
Talawa Studios, Old Street

Deep explores the impact of social exclusion within intimate relationships. When a person is more carer than partner, when the stress of unemployment takes its toll, when heritage is questioned, how does a relationship withstand the pressures?

Rebecca Ubuntu David is an interdisciplinary performance artist and playwright and a graduate of TYPT:12 – Talawa's annual season for emerging theatre-makers

Perception-ism explores life in Brixton during the 2011 London riots through the eyes of three very different characters; Seymour, Liz and Zayne. Does each of them share common beliefs and together can they put order back into their community?

Sharla Smith is graduate of Kingston University, and she was a member of Talawa's Writers' Group in 2006.

Wednesday 19 June at 7pm: STAGED READING
YOU KNOW WHAT YOU ARE
Written by DD Armstrong
Directed by Roy Alexander Weise
Talawa Studios, Old Street

From terrace chants to dressing room squabbles, You Know What You Are explores racism in football, friendship and what it means to wear club colours.

DD ARMSTRONG
DD is a dedicated writer and author who recently graduated from Regents College - London School Of Film Media & Performance. He holds a Masters Degree in Stage & Screen Writing and is passionate about creating fresh and original voices. He has experience in feature film, and TV broadcast working alongside award winning producer Patrick Uden (John's Not Mad, QED, The Apprentice) and was also a script consult for actor/director Noel Clarke on Adulthood. He is a freelance script reader, and has previously for worked the BBC writersroom.

Thursday 20 June at 7pm: Q&A
MICHEAEL BUFFONG ON DIRECTING – THE JOURNEY FROM PICKING THE PLAY THROUGH TO PRESS NIGHT
Talawa Studios, Old Street

Using a couple of his past productions - Moon on a Rainbow Shawl and God's Property - by way of illustration, Michael Buffong takes you though his approach to directing.

Michael Buffong is the Artistic Director of Talawa Theatre Company. His most recent credits include God's Property (Talawa, Soho Theatre, the Albany), The Serpent's Tooth (Talawa and Almeida Theatre) and Moon on a Rainbow Shawl (Royal National Theatre) and the multi award-winning A Raisin in the Sun (Royal Exchange).

Friday 21 June at 7pm: HOTSPOT WORK IN DEVELOPMENT
DO WE RELATE
Devised and directed by Women in the Space
Talawa Studios, Old Street

Five young women take a journey of self-discovery whilst dealing with the everyday experiences of being young, Black and female.

Women in the Space was founded by Toniche Wallace and comprises five TYPT graduates all of whom are committed to developing interesting stories featuring strong Black, female characters.



Info: Talawa Firsts is on from 3-21 June 2013 at 7pm, Talawa Studios, 53-55 East Road, London, N1 6AH | Tickets: £6 Book here