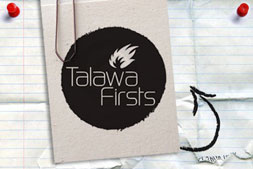 Curated by Artistic Director Michael Buffong, Talawa Firsts is a new studio season dedicated to developing and showcasing the best in fresh Black British writing.

For three weeks in June, Talawa's studio will become a hub of activity where upcoming directors will lead development workshops on the scripts of fresh new writers, and emerging practitioners will explore and present new work.

Talawa Firsts will give you the chance to hear untold stories that explore the Black British experience. It is a season in which you will hear the work of thrilling new voices, directed by young and emerging directors.

HotSpots is Talawa's initiative aimed at supporting the development of emerging artists and practioners. Twice a year, a number of HotSpots' artists will be invited to participate in Talawa Firsts.

Weds 13th June
Dad(die)
Written by Charlene James
Directed by Tinuke Graig

Pregnant Jasmine and her boyfriend Isaac are going to get away, make a fresh start and be the perfect family. But before they leave there are a few things they need to say to Dad!

Set in a run down bedsit, Dad(die) is the darkly comic tale of an absent father.

"I love the pace and sheer wit of the dialogue in this piece. An Alfred Fagon Award 2011 runner-up that deserves to be heard." Michael Buffong

Fri 15th June
Stronger
Written and directed by Alexander Williams
Presented by Golden Delilah as part of HotSpots

Three women speaking, first as one but then emerging as three distinct, powerful voices, Stronger takes a look at what it means to be a Black women in the UK today. Writer Alexander Williams has been a member of the Royal Court Writers Group, his plays have been read and performed at Battersea Arts Centre, Jackson's Lane and Lauderdale House, and he is a published children's author. Golden Delilah, founded by Anniwaa Buachie, commissions new writing that has a strong female focus.

Weds 20th June
Rise
Written by Cynthia Bernard
Directed by Anthony Edundayo Lennon

Granville and Majorie have lost their son to gang violence. Jeremy has lost his best friend.

Granville pushes through his grief, tries to find new purpose in life and teeters on the edge of breakdown. But the death of her son is proving to be too much for Majorie. And Jeremy just cannot get over the loss of his closest friend.

"Rise looks at the unseen side of gang violence; the effects on the families left behind. This is another Alfred Fagon Award 2011 runner up that I found to be a powerful and moving drama." Michael Buffong

Fri 22nd June
Cortae
Written by Shereen Jasmin Phillips
Directed by Stef O'Driscoll
Produced by Palesa Mokoena as part of HotSpots

Cortae is a young Black man living in inner city London. Follow him on his journey of self discovery as he struggles to reconcile being true to himself with trying to please the ones he loves. First developed as part of the Royal Court Young Writers Programme, the play candidly examines attitudes to homosexuality in the Caribbean community. Shareen's work has been read and performed at the Lyric Lounge, Hampstead Theatre, Oval House and as part of Old Vic, New Voices.

Weds 27th June
Keepsake
Written by Fraser Ayres
Directed by Nadia Latif
Presented in association with TriForce

The Prime Minister has been kidnapped and is being held in a council flat on an estate. The captor is not insane or disturbed; simply, he has had enough.
Believing that he is doing what many of us would wish to, he seeks to unearth the humanity of the Prime Minister by any means necessary and to find out what the hell is going on. But who will change who?

"Keepsake blends current affairs, conspiracies and heartfelt concerns from a troubled Britain. It's a dark, vibrant and sometimes hilarious journey that has no limits." Michael Buffong

Fri 29 June
ECHOES by N Richard Nash
Directed by Erica Miller Presented as part of HotSpots

Within an asylum a couple fight to remain happily mad, as all they fear is sanity.

INFO: Talawa Firsts runs from 13 to 29 Jun at Talawa Studios, 53 - 55 East Road, London N1 6AH, 7.30 - 9pm | Reserve tickets by emailing james.lever@target-live.co.uk - attendees are invited to join the director, actors and writers for a post-reading drink at a local bar around Old Street.