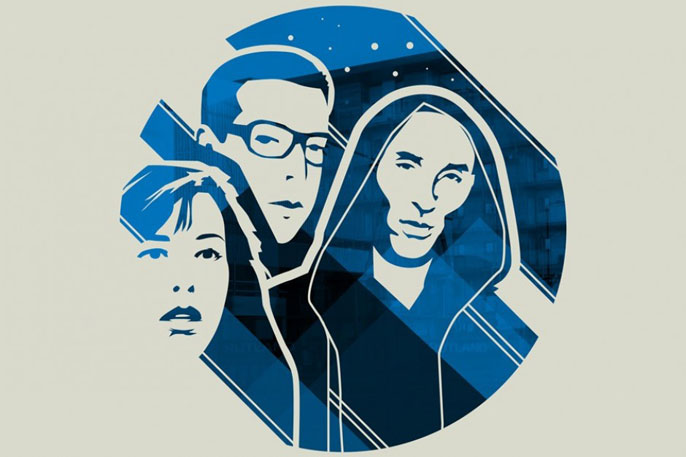 World Premiere from the creator of Black T-shirt Collection and The 14th Tale

National tour 23 June to 21 SeptemberrnoonExeunteww 2012 | Greenwich+Docklands International Festival 23 to 24 June 2012

In car parks, town squares and other outdoor spaces across the country, Inua Ellams transports audiences to a city not unlike London in a modern day, magical realist tale of violence and gang culture. Following a sell-out run of Black T-shirt Collection at the National Theatre, Ellams' new show Knight Watch combines soaring, lyrical poetry with a live soundtrack by Zashiki Warashi drum and flute duo (Aki Fujimoto and Mikey Kirkpatrick), to conjure a vivid portrait of a young man seeking a better way of life.

In a world where tower blocks are stone mountains and city walls are urban tapestries retelling epic fights, Michael keeps away from the warring tribes until a passerby helps him out of a tight situation. Instantly, he is pulled into the culture he has tried to escape. The city spirals out of control as battle lines are drawn and redrawn. In the quest for balance, loyalty, faith and friendships are tested, but will Michael succeed in ending the war?

Inua Ellams is a poet, writer, teacher, performer and graphic artist. Knight Watch follows a sell-out run of Black T-shirt Collection (2012) at the National Theatre and on tour. His first show, The 14th Tale, was part of the British Council Showcase in Edinburgh in 2009, winning a Scotsman Fringe First Award. In 2010 he was long listed for the Alfred Fagan Award for playwrights of African and Caribbean descent for Untitled. He has performed extensively at venues and festivals including the Soho Theatre, the Queen Elizabeth Hall, Tate Modern, Glastonbury and Latitude, and has published four books including his first collection of poetry, 13 Fairy Negro Tales, when he was just 22 years old.
TOUR DATES
Greenwich+Docklands International Festival
23-24 Jun, 7pm | festival.org or greenwichtheatre.org.uk | 020 8858775
International Student Drama Festival, Sheffield
26 Jun, 11pm | nsdf.org.uk | 020 7036 0927

Camden People's Theatre
29 Jun, 6pm & 9pm, 30 Jun, 5pm & 9pm | cptheatre.co.uk | 08444 77 1000

Almeida Festival, Spa Fields, Clerkenwell
2–3 Jul, 7.30pm | almeida.co.uk | 020 7359 4404

Tara Theatre @ Coronation Gardens, Southfields
5–7 Jul, 9pm | tara-arts.com | 020 8333 4457

Arcola Theatre at the Dalston Eastern Curve Garden
10 Jul, 8pm | arcolatheatre.com | 020 7503 1646

The Last Refuge, Peckham
11 Jul, 8pm | To book tickets visit fueltheatre.com

Latitude Festival, Southwold
Outdoor Theatre Stage
14 Jul, 3.30pm | latitudefestival.co.uk | 0870 060 3775

Southbank Centre, Central London
22 Jul, 8.30pm | southbankcentre.co.uk | 0844 847 9910

Stockton International Riverside Festival
2–3 Aug | sirf.co.uk

Live Theatre in association with Newcastle Gateshead Bridges Festival
4 Aug, 7.30pm, 5 Aug, 7.30pm & 9pm | live.org.uk | 0191 232 1232

The Albany at Deptford Lounge, Deptford
21 Sep, 8pm | thealbany.org.uk | 020 8692 444


RELATED LINKS